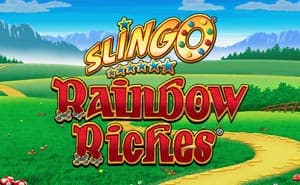 Slingo Rainbow Riches
Slingo Rainbow Riches Key Points
Game Title: Slingo Rainbow Riches
Game Provider: Slingo Originals
Theme: Irish
Maximum Payout: Up to 1,000x
Winning Ways: 12
Volatility: Medium
Minimum Bet: £0.50
Maximum Bet: £100
Bonus Features: Wishing Well, Cash Drop, Magic Toadstool, Road to Riches
About Slingo Rainbow Riches
Slingo Rainbow Riches is an incredibly well-loved title from the team at Slingo Originals, our provider for all of the incredible Slingo online casino games that are available to play right here. As you might expect, the Rainbow Riches Slingo game is one of the most popular Slingo titles on offer - unsurprising given how much of a classic the slot machine version has been over the years with plenty of Rainbow Riches sequels branching off from it.
The bonus features that you'll have come to know and love in the Rainbow Riches slot are available to trigger in the Slingo version after a minimum of 5 Slingos are found on the grid. If you're new to Slingo but you're intrigued by the title then you'll be pleased to know that it is incredibly easy to pick up the rules of this up-and-coming casino game. It's as simple as pressing the Spin button - if there are any number matches the computer will mark them off for you! The goal is to complete as many Slingos (also known as lines or paylines) as possible in order to ascend up the paytable where bigger and better prizes await the more Slingos you collect!
How do you win at Slingo Rainbow Riches? Slingo games determine wins slightly differently to some of the best online slots that you may be more familiar with. In Slingo, much like in games of bingo, the goal is to mark off as many numbers as possible - and you can mark numbers off by matching them with numbers that appear in the lowermost reel with each spin. Numbers are marked off automatically to make gameplay nice and quick, and to make sure you don't miss any important numbers. If you complete a vertical, horizontal, or diagonal line then this is known as a Slingo. Complete multiple Slingos and you'll ascend up the paytable toward one of the bonus rounds - and these bonuses are where the big potential payouts await!
Are there any Slingo Rainbow Riches strategies? As Slingo is entirely random, strategies don't really apply because there is no way to increase your chances of winning. There are, however, some aspects of gameplay that you might miss that can help push you toward wins. Something to note is the Free Spins symbol that can land in the reel - just a single one of these is required to give you an extra round of gameplay. Another symbol that we wanted to mention is the Joker - whenever a Joker lands, you can choose any highlighted position on the grid to mark off. Whenever a Joker lands, take a look at the grid and see if any of those highlighted positions could complete a Slingo or bring you a step closer to completing a Slingo instead of marking a number at random. While not a strategy, it's something that is well worth bearing in mind when you're playing.
How to Play Slingo Rainbow Riches
Stake: Setting a stake that you're comfortable with is always the key part of playing any type of casino game - and Slingo Rainbow Riches is no exception. If the default amount doesn't work for you then you can change it to better fit your preferences and budget.
Spin: Press the Spin button when you're happy with your stake and are ready to start playing. Numbers will appear in the 5 spaces below your grid - and there are possibilities for special symbols like Free Spins, Jokers, Super Jokers, and Devils to appear as well!
Slingo Rainbow Riches Bonus Features
Slingo Rainbow Riches is one of the most generous games of its genre in terms of the bonus features available. The game is inspired by the Rainbow Riches original slot, taking things even further. Here are the special features to look for:
Wishing Well: This is a nice and simple pick-me style casino bonus feature in which you could win prizes and multipliers to boost the power of your payout!
Cash Crop: Money might not grow on trees but there are multiplier coins sprouting out of the Rainbow Riches fields in the Cash Crop bonus! You'll win a random number of coins which will lead to the flip of a coin to determine whether you collect your prize or continue playing for even more valuable coins. There are 4 levels with the value of the coins increasing every time!
Magic Toadstool: This is another pick-me level in which you'll be given 3 picks at a field of magic toadstools all containing random prize values. If you discover a fairy she will uncover even more prizes for you! The upgraded red version will give you 4 picks with even greater prizes up for grabs.
Road to Riches: Spin the wheel to reveal the number of positions you'll move along the trail with win multipliers available to win - this feature will continue until you spin a Collect symbol or win the huge pot of gold valued at 500x! The upgraded version offers doubled prizes with a prize of 1,000x waiting at the end of the trail!
Pots of Gold: In this bonus round, 12 pots spin around the leprechaun in a wheel pattern. The pot landing on the arrow awards an instant prize of up to 1,000x.
Pink Casino's Slingo Rainbow Riches Review
This game is a perfect segue from slot games to Slingo, bridging the gap with one of the most famous casino titles known around the world in both online and land-based casinos. Rainbow Riches has always been a huge hit with players and Slingo Rainbow Riches offers an interesting way to play with the kind of bingo mechanics that have spawned entire communities - like the bingo community here at Pink Casino! By winning Slingos you can trigger some of those well-known bonuses with plenty of payout opportunities up for grabs.
Slingo Rainbow Riches FAQs
Q. Can I play Slingo Rainbow Riches on mobile?: A. Yes, the slot is perfectly optimised for smaller screens. You can play Slingo Rainbow Riches on mobile, tablet, or PC.
Q. How do you win in Slingo Rainbow Riches? A. The goal is to form Slingos by matching numbers on your virtual ticket with the numbers that come up at every spin.
Q. What is the maximum payout of Slingo Rainbow Riches? A. The maximum payout is 1,000x. You can win the top prize during the Road the Riches bonus feature with multipliers.
More Games By Slingo Originals