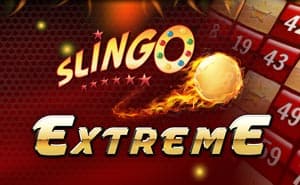 Slingo Extreme
About Slingo Extreme
Slingo Extreme is an online casino game with a difference. Despite its traditional appearance, its payout structure is brilliantly modern with potential payouts to play for of up to 500x. Winning in Slingo is as simple as matching numbers with those that appear in the below reel and filling up as many positions as you can in horizontal, vertical, and diagonal lines - also known as Slingos. Slingo games are becoming increasingly popular with players for the easy-to-understand format of gameplay. It takes many of its features and mechanics from the fan-favourite aspects of slot games and online bingo.
Slingo Extreme will be a fantastic option for players that are new to playing Slingo as it delivers some great payout opportunities while introducing you to the concept of completing Slingos to win prizes.
How to Play Slingo Extreme
Stake: If the default stake isn't to your liking you're free to adjust it to a more suitable amount by using the plus or minus button to increase or decrease it. Whatever your budget, Slingo Extreme offers a stake amount to suit you. This stake will give you 11 rounds of gameplay with the ability to purchase extra spins once they've all been played - extra spins will cost an amount dependant on how close you are to winning more Slingos.
Spin: Press the Spin button once you've read through all the rules and are happy with the current stake. This will start the first of your spins and reveal a random selection of numbers and symbols in the 5x1 reel beneath the game grid.
Pink Casino's Slingo Extreme Review
Slingo is one of our favourite types of casino game for its user-friendly interface and incredibly simple-but-effective pay structure. In the case of Slingo Extreme there are some great prizes up for grabs of up to 500x - so keep your eyes peeled for those all-important Slingos!