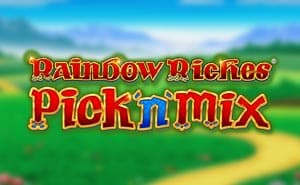 Rainbow Riches: Pick n Mix
About Rainbow Riches Pick'n'Mix Online Slot Game
Don't let the simplicity of the Rainbow Riches Pick'n'Mix interface deceive you. This 5-reel, 20-payline slot game is anything but dull. You get numerous scatter symbols, wild, and bonus symbols capable of triggering bonus rounds unlike anything you saw in the original game.
This remix on the Rainbow Riches classic shakes things up a bit with the addition of several new bonus features but sticks with that same old-school Irish Luck theme, so there's a lot of familiarity in this Rainbow Riches Pick 'n' Mix.
As the first expansion of the Rainbow Riches universe, it's not a surprise that the choice here was to play it safe to give fans of the original more of what they love. The Magic Toadstool bonus breathes new life into this game, while the brand-new Cash Crop bonus offers additional ways to win.
Rainbow Riches Pick'n'Mix Gameplay
Before you do anything else, you'll choose three bonus games that will be active throughout your transaction. There are five total bonus games to choose from. Once your bonus games are selected, you then use the + and - symbols to choose your wager and the number of active paylines you want in play. At any point during gameplay, you can click the 'Reset Bonus' button in the upper right corner of the screen to choose three new bonus games to play with. Your new selections will remain active until the conclusion of your transaction or another press of the 'Reset Bonus' button. During gameplay, the wild symbol substitutes for all other symbols except the five bonus symbols: Pot of Gold, Toadstool, Road to Riches, Free Spins and Cash Crop. Wild symbols can combine with others to create winning combinations; all winning combinations must originate in the first position at the far left and include at least three like symbols on adjacent reels.
Rainbow Riches Pick'n'Mix Online Slot Features
POTS OF GOLD BONUS
When three or more Pots of Gold scatter symbols appear on a standard spin, your chances of winning go up. If three appear, you will notice gold, silver and bronze pots spinning on the screen. When four symbols appear, only the gold and silver pots are active. Once the pots stop spinning you will see an arrow pointing to one of them. The value of this pot is the multiplier used during the Pots of Gold Bonus round. You could win up to 500 times your original wager with the right pot. If five Pots of Gold bonus symbols occur on a standard spin, you automatically get the 500x win
FREE SPIN BONUS
The Free Spins bonus is triggered when three or more Free Spins scatter symbols appear on reels 1, 3, and 5. During this round, the Free Spins symbol is wild and can substitute for any other symbol. The standard Wild symbol is still in play, but it can not replace the Free Spins symbol. The number of free spins awarded depends on the number of stacked Free Spins bonus symbols that triggered the round. Three symbols get you 10 free spins, four symbols get you 20, and five symbols get you 30. You can re- trigger the bonus round by once again achieving three or more Free Spins symbols on reels 1, 3, and 5 during bonus play.
MAGIC TOADSTOOL BONUS
Achieving three or four Toadstool Scatter symbols during standard play triggers the Magic Toadstool bonus round. This is a picking game that introduces 24 toadstools for you to choose from. You will have three picks. Each pick will reveal either a prize or a fairy. If a fairy is revealed, you get three additional picks made automatically for you. This continues until all of the toadstools have been chosen or there are no more fairies. This bonus round includes a minimum prize amount. If all of the toadstools have been revealed before reaching that amount, you are awarded additional toadstools and picks until you eventually reach the minimum award. You could win up to 500 times your original wager in this round.
CASH CROP BONUS
The Cash Crop bonus is triggered when you achieve three or more Cash Crop symbols during standard play. When the round begins, you will be presented with 50 spinning coins in a grid. They will stop one at a time to reveal either the multiplier or a blank space. All multiplier values are added together, with the sum being multiplied by your original wager. That amount is then held while the round continues. It is followed by a final spinning coin that will eventually stop to reveal either 'Collect' or 'Go On'. If 'Collect' is revealed, you get your held prize and return to standard play. If 'Go On' is revealed, you get to go again with another 50 coins. The maximum number of rounds available in this bonus is three.
ROADS TO RICHES BONUS
The Roads to Riches bonus is triggered when you achieve three or more Road to Riches symbols during standard play. Three symbols will result in standard multipliers while for symbols will reveal multipliers of higher value. You will then spin the wheel to decide the number of steps to be taken up the cash road. Spinning and travelling continue until you land on a collect position or you achieve the maximum prize for the round. You could win up to 500 times your original wager in this round.
More Rainbow Riches Casino Games