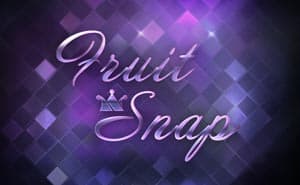 Fruit Snap
About Fruit Snap Slot
The Fruit Snap slot is one of Red Tiger's classic-themed casino games following on from the success of some of their previous titles like Five Star, another simplicity-first game packing some serious winning potential. This is hugely different from the studio's usual wild and wacky themes like the nuclear Rocket Men which pits two vaguely familiar leaders against each other, and Snow Wild and the 7 Features, a reimagined fairytale slot with bonuses aplenty!
Surrounded by a glitzy pink glitterball-esque background, Fruit Snap offers a gorgeous grid filled with symbols that may be simple but are well-designed and gloriously vibrant in colour. The theme, as we said, is inspired by the classic fruit machines in years gone by, so if you're a fan of the more old-fashioned slot games then this is a great way to transition into the world of the online casino. That said, it's also a great way for all types of players to get started at Pink Casino as it forgoes a lot of the bells and whistles of many modern slot games to offer concise and user-friendly gameplay.
This doesn't mean there are no bonus features to speak of, though! In fact, the bonuses on offer in Fruit Snap are wonderfully unique and pack bags of potential with the ability to deliver wins of up to 3,000x. One of our favourite aspects of the game is the Double Win Upgrade, which doubles the value of a high-value symbol once its Symbol Meter has been filled. Want to give it a spin but you're on a mobile device? We've made sure to offer you a mobile, tablet, and desktop-compatible game so you can play from wherever you like! For an even better mobile experience take a look at our pocket-sized online casino app!
Fruit Snap Slot Bonus Features
Symbol Meters
Just above the reels, you'll see an additional row of oddly positioned symbols; these are the Symbol Meters. For each of the symbols you'd find on the reels there is a corresponding Symbol Meter to measure the frequency of it landing in a winning cluster. When a winning cluster hits, the relevant Meter will begin to fill up. Fill a meter entirely and you'll trigger one of two potential features depending on whether it's a high-value or low-value symbol.
Fruit Removal
If the full Symbol Meter is of a low-value you'll be awarded the Fruit Removal feature which will remove that symbol from the reels to increase your chance of landing higher-paying ones!
Double Win Upgrade
Bagged yourself a full high-value Symbol Meter? The Double Win Upgrade will trigger, which does what it says on the tin; the value of the triggering symbol will be doubled to give you fantastic payout potential!
Meter Bonus
Filling a Symbol Meter isn't the only way to trigger one of the features; the Meter Bonus could randomly trigger on any non-winning spin. If it's activated, at least 1 symbol will be chosen to add to its respective Meter.
Free Spins
Find 3 Bonus symbols on the reels and you could be in luck! This will trigger the Free Spins bonus in which the Meters will remain full if filled during the feature, which means that if a symbol is taken from the reels in Fruit Removal they will not be added back to the reels until the Free Spins bonus ends.
How to Play Fruit Snap Slot
Stake
Select the Stake button to view a list of all the available bet amounts that you can set per spin. Be sure to check this before you start spinning to make sure you're happy with the amount that will be deducted from your available balance.
Autoplay
The Auto button will take you to a menu where you can choose the number of spins you'd like to be automated at the current bet level, a chosen loss limit, and an optional win limit. If you're happy with your settings press Start and the series of spins will begin.
Spin
If you're happy with your chosen stake you can press the Spin button to randomise the position of the symbols on the reels. If you want to speed up this animation simply press the Turbo button first and this will shorten the time it takes to spin the reels for all consecutive spins.
Pink Casino's Fruit Snap Slot Review
If you're a fan of simplistic online casino games then this is a great new addition to your repertoire with its Symbol Meter feature helping it stand out; that, and its stylish design are sure to win it plenty of Pink Casino fans. The use of the Meter in the Free Spins round is also hugely impactful as any Fruit Removals will remain in play for the duration of the bonus feature rather than for just that spin. Looking for another Red Tiger slot with a different theme and an abundance of bonuses? Look no further than the futuristic-but-ancient Mayan Gods for UFOs, shamans, and lots of mysteries to uncover along the way...