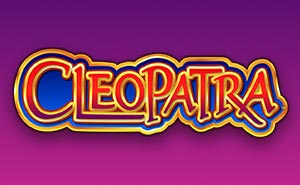 Cleopatra
More Cleopatra Slots
About Cleopatra Slot Game
Cleopatra, the action-packed Egyptian-themed online casino game from IGT, was one of the first casino games to appear across land-based casinos floors and remains one of the best online slots to this day. This 5-reel, 20 payline slot has since grown a worldwide audience across both physical and online casinos as the Egyptian empress offers an award-winning slot experience to Pink Casino players.
The captivating queen, Cleopatra, has a range of draws such as the free spins casino bonus feature that can also be retriggered during bonus play. Another favourite is the double-up Cleopatra wild that does exactly what it suggests: doubles your wins!
Run through the ruins of ancient Egyptian culture and experience a simplistic, yet immersive slot environment, where players can witness the high quality visual unfold across a traditional Egyptian period. Unearth hieroglyphics from the Egyptian reels, as the Cleopatra scrolls offer recognisable symbols in the form of scarab beetles, the Eye of Horus and of course, the Queen of the Nile herself. Though the winning symbol to pull from the pyramids is the Sphinx Scatter, that may award 180 Free Spins!
How to Play Cleopatra Slot Game
Cleopatra allows you to place wagers in several ways. First, you can select individual paylines and place your wager on each one.
Your second option is to place the same wager across all 20 pay lines. You can choose the wagers between one and four coins.
There is a maximum bet of five coins on any single payline for any one spin. Placing your wagers and clicking the SPIN button starts gameplay.
Keep your eye open for the Sphinx and Cleopatra bonus symbols. When they show up, you are on your way to greater winnings for that spin.
Cleopatra Scatter Wins
The scatter symbol in Cleopatra is the Sphinx. When two or more Sphinx symbols appear on your reels during standard play, any winning combinations receive a multiplied award based on the scatter award and the wager on that line. Reference the paytable to see how much individual scatter wins are worth. When you see three or more Sphinx symbols appear during standard play, the Free Spins bonus is automatically triggered. In Cleopatra, this is known as the Cleopatra Bonus.
Cleopatra Bonus
Triggering the Cleopatra Bonus results in free spins that are initiated automatically. Wagers and pay lines are the same during bonus play as they were on the standard spin that triggered the bonus. All winnings during the bonus round are tripled. You can re-trigger 15 additional free spins by achieving three or more Sphinx symbols during bonus play. Get five Cleopatra symbols during bonus play and you win the maximum award.
Additional Information about Cleopatra Online Slot
Your current balance and winnings are displayed in whatever currency you choose to play with. Winnings apply only to active paylines, except for Scatter wins. All scatter awards are independent but are added to regular wins up to the transaction limit. The game will automatically stop when the per transaction limit is reached or the player no longer has sufficient funds to continue. Any game malfunction immediately voids all pays and plays.
Cleopatra remains a mysterious figure of great intrigue. In her namesake slot game, she waits for you to test your luck against the ancient Egyptian gods. Cleopatra and the Sphinx are both on your side, but you need to be at your best to win big. When you play Cleopatra, you will be playing one of the most popular online casino games ever created. Cleopatra is a visually appealing game for both new and veteran players alike.
Pink Casino's Cleopatra Slot Game Review
Come face to face with the captivating Queen of the Nile in this action-packed slot offering from IGT. Cleopatra offers the glitz and glamour of Vegas slots, right at Pink Players' fingertips! It's easily one of the most famous machines in Las Vegas and this online slot blends the best elements of the land-based Cleopatra slot with innovative technology and impressive online slot visuals.
Cleopatra offers an easy to follow serving of gameplay, paired with several winning bonus features to appeal to both modern and traditional slot players alike! Take a spin through ancient Egypt and try your luck at triggering a mighty 180 Free Spins, along with wilds, scatters, and more! Or, if your journey through time points you to uncovering more Ancient Egypt slots, take a spin of some of our other classic themed slots. Spin through the pyramids that hold stacks of winning potential in the Book Of Dead slot, where the ancient gods may award Pink Casino players some royal prizes.