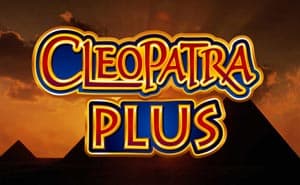 Cleopatra PLUS
##About Cleopatara Plus Cleopatra PLUS uses 40 paylines across a 3x5 reel slot. Each Wild can be stacked up to 10 symbols high and gives you a 2x multiplier!
Buttons
Settings
You'll be able to change the games volume and the video quality of the game by pressing the Settings button.
Line Bet
The Line Bet window shows you how much is being staked on each payline during the game. You can change the Line Bet by using the left (-) and right (+) buttons.
Total Bet
The Total Bet window shows you the total amount of how much will be staked the next time you press Spin.
Spin
Press Spin to place your Total Bet and start the next game round.
Win
After each winning Spin, the total amount you have won is shown in the Win window.
Balance
Check the Balance window to see how much is left to play with in your account.
Autoplay
The Autoplay feature allows you to make the game automatically spin for a pre-selected number of rounds.
Cleopatra PLUS Features
Deity Symbols
Cleopatra PLUS gives you the chance to choose your own lucky mascot to place on the reels with the Deity feature. Pick one of 6 Deity's to feature on your reel at any time. Choose Aset, Bastet or Hathor to land on your reels, and they will be scattered across the reels, giving you more frequent wins. Choose once of Amun, Ra or Anubis and they will be placed in stacked symbols across the reels, giving you a better chance at getting a big win.
Free Spins Bonus
Finding 3 or more Bonus symbols anywhere on the reels will trigger the start of the Free Spins Bonus. Your Bonus can be played in 3 different Bonus Realms, choose from Alexandria, Nile River Valley and Pyramids of Giza. Each realm features up to 7 locations for you to place your followers. For each Bonus symbol you find on the reels, you'll get 1 follower. Theses followers can be placed in different Locations to give different features during your Free Spins Bonus. These features include: More Free Spins, Free Spins Multipliers, Cash Awards, A Last Spin Multiplier and a number of Super Spins. The Free Spins Bonus starts with a guaranteed 5 Free Spins, but placing your followers will make each Bonus a different experience.
Level Up Plus Features
The successful Level Up Plus Feature is now on Cleopatra PLUS! Keep on playing to get new followers and Level up each time you play. Earn new features and even an increased payback at certain levels. Don't worry about losing your progress if you decide to play any of our other fabulous slots, you're progress will be saved for when you come back. Take a look at what you could earn the next time you play:
Level Unlock 1 - 2 Nile River Valley Bonus Realm 3 New Bonus symbol with 2 followers 4 3 new Diety symbols 5 New Bonus symbol with 3 followers 6 Last Spin Multiplier Feature 7 Pyramids of Giza Bonus Realm 8 Super Spins Feature Game Stats