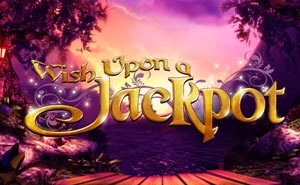 Wish Upon A Jackpot
About Wish Upon a Jackpot Slot
Wish Upon a Jackpot is a 5-reel, 20-payline online casino game with two main bonus games. The second bonus game, known as the Fairy-tale Bonus, offers you an opportunity to play one of four additional casino bonus games as part of the round.
To begin gameplay, set your wager for all 20 paylines using the + and - buttons at the bottom of the screen. Then click the 'Spin' button to set the reels in motion. Any winning combinations originating from the far left position results in the awarding of the prize. Only one win per line is awarded in the event multiple winning combinations appear on the same line. The game includes Wild symbols that can substitute for anything but bonus symbols.
Bonus Rounds
FAIRY GODMOTHER BONUS
The Fairy Godmother Bonus is the first of the two primary bonus games. Should the Fairy Godmother appear during standard play, she might trigger her bonus round that will most certainly add to your winnings. Choose a magic orb to reveal your prize at the start of the round, then spin the reels. You have lots of ways to win thanks to three different wild symbols that include the Gingerbread Man, Puss in Boots, and Pinocchio. What's more, each of the wilds has the potential of turning other symbols wild as well.
RUMPELSTILTSKIN'S DEAL MAKER BONUS
The Fairy-tale Bonus is the second primary bonus game in Wish Upon a Jackpot. It includes four additional bonuses, starting with the Rumpelstiltskin Deal Maker Bonus. If Rumpelstiltskin appears, he will begin making offers based on a contract scroll he carries with him. You can take or leave each offer made. Any offer you choose to leave will disappear and be replaced by another from the scroll until all offers have been exhausted. Should you get to the end, the last offer will automatically be accepted.
JACK AND THE BEANSTALK BONUS
If Jack should appear during the Fairy-tale Bonus, he will trigger the Jack and the Beanstalk Bonus round. The idea here is to choose Magic Beans that will cause your beanstalk to grow incrementally. You keep picking until your beanstalk either reaches the top or you reveal the 'Collect' symbol. Make it to the top and you will be awarded the Golden Goose egg and a big prize; otherwise, your award will be determined by how high your beanstalk grew.
FREE SPINS BONUS
During the Fairytale Bonus, you may see the 3 Little Pigs appear on your reels. Achieve all three to trigger some free spins. During this round, standard symbols can be transformed into wilds if any of the 3 Little Pigs appear during a given spin. Any symbols changed into wilds remain as wilds until the conclusion of the round.
RAPUNZEL FREE SPINS BONUS
You can trigger a second free spins bonus If Rapunzel appears during the Fairytale Bonus. Rapunzel will wait patiently for Prince Charming, who will slowly climb the tower as you spin. If he makes it to the top, you'll win big. This round includes enriched reels that could increase your winnings with every spin.
Wish Upon a Jackpot Review
Taking inspiration from the magical world of fairytales and bringing it the slot game reels. You'll find characters such as Jack and The Beanstalk, Rumplestiltskin, The Fairy Godmother and more. You can expect free spins, bonus rounds and scatters to help you on your way. Will you sign Rumplestiltskin's bonus deal? Be wary as he's sneaky! But you'll only get so many chances. This is another classic from the popular Blueprint gaming, packed with bonuses, great graphics and fun gameplay.
Wish Upon A Jackpot FAQs
Q. What is the maximum payout in Wish Upon a Jackpot?: You can win up to 1,000x your stake with Wish Upon a Jackpot, made possible by its array of generous bonuses that could have you spinning your way into incredible cash prizes!

Q. How do you win in Wish Upon a Jackpot?: Much like our other slots, you can pocket a payout in this game by landing matching symbols across one of the paylines. There will be 20 paylines on offer for you to land your symbols on, so there's lots of opportunities for you to win! If you trigger one of the bonus rounds, there could even be additional ways to win so keep your eyes peeled!
Recommended Games