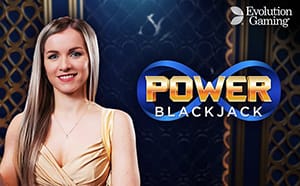 Power Blackjack
About Power Blackjack
One of the standout features of Power Blackjack in contrast to many other online Blackjack games is the ability to double, triple, and even quadruple down on any of the initial cards that are drawn. This is a fantastic way to offer the chance to enhance the payout potential of a hand that you're confident in. The Power Blackjack live casino game is played with more decks than standard - you've got 8, in fact, and these decks have had the 9s and 10s removed for unique gameplay that you've never seen before!
When you join in with this online casino game, you'll be playing alongside likeminded people from around the world, all gathered around the same virtual table which brings the community feel back into live table games. There is little to no interaction with other players, however, so it still feels like a private game - but the chat feature is there if you do want to get involved in some chatter with your new peers.
How to Play Power Blackjack
Stake: During the betting window, the chip values will become visible on the screen when you click the chip icon. There will be a wide range of bet amounts to suit your budget. Pick the one that is most suitable for your preferences and the timer will count down to the end of the betting window to signal the start of the gameplay round.
Hit: If the hand you're dealt totals a fairly low value, you might want to Hit which will tell the dealer that you want to receive another card. This is a good way to play if the hand value is unlikely to be over 21 once that additional card is dealt. For example, a hand total of 10 is low enough that another card won't take you over 21 but low enough that you probably won't want to Stand as it's likely that the dealer will be closer to 21 than this.
Stand: If you choose to Stand then the dealer will not give you any further cards and your current hand will be submitted as your final one. For example, if your total hand value was to come to 18, another card is very likely to take you over the 21 limit - but it's close enough that the dealer may not be closer to 21 than you.
Pink Casino's Power Blackjack Review
Power Blackjack is a fantastic option for experienced players that want to switch up their gameplay with some unique twists and extras. Not only can you double down on those all-important initial cards but you can actually triple and quadruple down if you're feeling confident about your hand. The 9s and 10s have been removed from the 8 decks of cards that are in-play which makes the experience very different - while it may be a confusing introduction to Blackjack for brand new players, it's perfect for those that want something brand new to play.