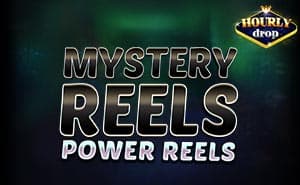 Mystery Reels Power Reels
More Mystery Reels Slots
About Mystery Reels Power Reels
Continuing a popular series of retro-inspired slots, Mystery Reels Power Reels offers even more high-variance gameplay courtesy of developers Red Tiger. If you're unfamiliar with Mystery Reels slots, they're designed to provide some traditional fruit machine nostalgia with iconic fruity symbols - but your reels have been given a contemporary upgrade with a 7x6 grid, 30 paylines, and prizes of over 5,000x your stake!
Mystery Reels Power Reels Bonus Features
Mystery Symbols: Mystery symbols are popular casino bonuses in plenty of online casino games, and they also make an appearance in Mystery Reels Power Reels. Giant symbols emblazoned with a question mark could land anywhere on the reels, potentially spreading to multiple positions. When all of the mystery symbols have finished duplicating, they will all transform into the same icon from the paytable, potentially paying out a huge prize sum!
Win Both Ways: Most slots will strictly pay out for left-to-right symbol combinations only. This means that a set of matching icons must land from reel 1 onwards in order to qualify for a prize. However, in Mystery Reels Power Reels, a winning combination can occur both from left to right and from right to left to give you even more opportunities to win.
How to Play Mystery Reels Power Reels
How to Play: Playing a slot game is as simple as pressing the Spin button and watching the reels animate as all the symbols fall into random positions. There is no skill to these games, and Mystery Reels Power Reels is no exception. As with all chance-based games, you have as much chance of winning as any other player, regardless of how experienced you are at playing them. We would always advise players to double-check the current bet amount before playing to ensure that it's suitable for their budget.
How to Win: To win, a combination of 3 or more identical symbols must land across one of 30 paylines - and they can land from the left or right to offer a payout.