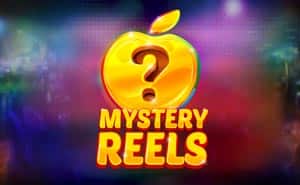 Mystery Reels
How to Play Mystery Reels Online Slots
Use the plus and minus buttons to increase or decrease your total online casino bet. Your value will be shown in the Total Bet window. From here click Spin to start your round and spin the reels. There is an Autoplay function that allows you to spin the reels automatically, just click the button and set your spins.The function will stop when the spins have completed or you click stop.
Features
Mystery Symbol
When the mystery fruit lands with this online slot game it will reveal a number and begin to clone itself that specific number of times. As it does this it will spread across the reels cloning other symbols. The cloned symbols will reveal a symbol from the paytable, which will set your payout.
Wheel Bonus
When you land a Wheel Bonus it will yield one spin of the wheel, which sits above the reels of the Mystery Reels online slot games. The wheel is divided into segments, which includes multipliers and a question mark. Each segment will act as either a multiplier or a boost for bigger wins. You can also get more spins of the wheel.