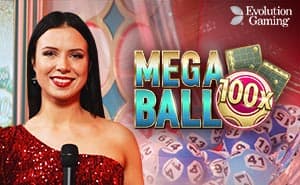 Live Mega Ball
About Mega Ball
Combining the fantastic modern advancements of live casino games with the popular features on offer in the widely popular game of online bingo, Mega Ball offers a little something for all types of online casino players. It's fast, it's brilliantly innovative, and it has a couple of welcome bonus rounds to make gameplay even more engaging.
The aim of the game is to fill up as many lines of your Mega Ball card as possible - numbers will be randomly drawn by a machine and if a number appears that is on your card it will be marked off and your lines of numbers sorted in order of the closest to win. The game is effortlessly simple in concept and is easy to pick up and learn with the possibility of being awarded a Mega Ball Multiplier to boost your payouts!
How to Play Mega Ball
Buy Card(s): At the first part of the game you need to decide how many cards you would like to purchase and how much you want to play for by setting the value for the card(s). There are plenty of options for players of all budgets so high-rollers, low-stakers and everyone in between are all well catered for. You can buy up to 200 cards. The value of these cards can be changed as little or often as you like as long as you are within a betting window.
Refresh Numbers: All of your cards will be displayed on the screen with the option to zoom in on any of them as required. If you decide that you would like new numbers on any of your cards, just click the relevant button to refresh the numbers and be randomly assigned new ones in the betting time.
Ball Drawing: After the betting time you can no longer change your card value or refresh the card numbers. Numbers will be drawn rapidly from the machine and your numbers will be automatically crossed off if any numbers match those on your card(s). You can see potential winnings and any current winning if applicable.
Mega Ball Multiplier: After all the numbers have been drawn from the ball drawing machine, a multiplier of a random value between 5x and 100x will be displayed on the screen. A final ball is then drawn to reveal the number of the Mega Ball - if this number completes any lines on any of your cards then your payout will be multiplied by the displayed value!