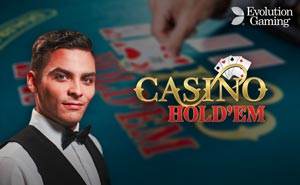 Live Casino Hold'em Jumbo 7
HOW TO PLAY
You will be greeted by the live dealer who will interact with you throughout the game. You can send chat messages to the dealer, and you can hear the dealer's response via the built in audio. The game is played in real time and in tv quality video streamed straight to you via your PC or tablet. You can view all of the action as the cards are dealt and the game is played, as you place your bets.
Want to be ahead of the game? Take a look at our How To Play Poker blog post.
OPTIONS
You can select and change your camera view from the Settings button in the toolbar. During your live game, you have the option of 3D View, Classic View, or Pairs View. If you choose the 3D View, your seat and designated betting area will appear directly on the live-stream video. Alternatively, select Classic View to interact with a larger, more defined graphical depiction of the game table.