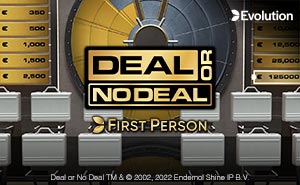 First Person Deal or No Deal
If you're a fan of live casino game shows but you prefer the first-person variant, why not give First Person Deal or No Deal a try? Complete with all of the boxes players would expect to see within a game of this genre, this version from Evolution offers players the chance to win 500x your stake.
Providing players with three different game stages, including qualification, top-up and the main game, this game can be played at your own pace and the chance to have big potential cashouts. Another feature of this game is also interacting with the banker, who will ask you the famous question, Deal or No Deal?