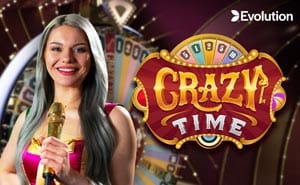 Crazy Time Live
About Crazy Time
While the game is wacky and wild in its potential for paying out with huge prizes, Crazy Time is surprisingly simple in nature. Much like Monopoly Live and the incredibly popular Live Dream Catcher players will just need to place their bets on the area of the wheel that they think the arrow will land on once the spin has finished. It really is as easy as that!
Most segments of the wheel are numbered 1, 2, 5, and 10 - so you can choose to place a bet on one of these or you can alternatively bet on the possibility of landing on one of the bonus feature segments. A winning bet on 1 will award a 1x prize, 2 will pay out 2x, 5 will pay out 5x, and 10 will pay out 10x. To mix things up a little bit, there is the possibility of a multiplier being added to one of the wheel sections which would mean an even higher prize if the arrow lands in that place and you've placed a bet on that number!
This is a really simple online casino game that serves as a fantastic introduction to playing live casino titles if you've never given one a go before. You can chat with the live host and potentially benefit from the incredible casino bonus rounds that could be triggered during gameplay!
Crazy Time Bonus Features
Cash Hunt: Hunt down multipliers in this bonus extravaganza! You'll be presented with a screen full of symbols covering unique multiplier values. To make your experience even more immersive you'll get to pick a symbol that you want to shoot down. You'll win the multiplier that you uncover and this will be placed against the value of your bet.
Pachinko: You might well have heard of or even played Pachinko in the past. It's a really simple mechanical-style game that plays like a blend between pinball and a slot machine. In Crazy Time, the Pachinko bonus round involves dropping a counter into a 'maze' of pegs which the counter will bounce around in as it makes its way down to the bottom. Below this wall of pegs, you'll see an array of multiplier values waiting. If the puck lands on one of these multipliers, your bet will be increased by the displayed amount. If the puck lands on a 'Double' then the value of these multipliers will increase and the round will start again.
Coin Flip: This one does what it says on the tin. All you need to do is guess whether the coin will land on red or blue with each face boasting a unique multiplier. You'll win whichever multiplier you land on.
Crazy Time: Whimsy and colourful characters await behind the mysterious red door, all framing an upgraded wheel that boasts 64 segments and different coloured arrows. You'll need to pick one of the arrows and whichever segment your chosen arrow is pointing at when the spin finishes will indicate the multiplier that you'll win!
How to Play Crazy Time
Stake: To choose your stake, you'll need to pick from the chips that are presented in an arc at the bottom of the screen. You can only do this during the betting window so listen and look out for instructions on when you can place your bets.
Betting: Once you've picked a chip you can place it on the segment that you think the arrow will land on once the wheel has finished spinning. You could bet on a number, all four numbers, or you could even bet on one or all of the bonus features. The number segments all offer a prize multiplier value equal to the represented number (i.e. number 1 offers 1x, number 10 offers 10x, etc.)
Pink Casino's Crazy Time Review
If playing live casino games like Live Dream Catcher is right down your alley then this wacky title with a huge winning potential could be a great option for those looking to try something new. Bright, colourful, and packed with multipliers every which way you look, you could bag yourself some incredible prizes - particularly thanks to the generous bonus features that can be triggered during each spin!