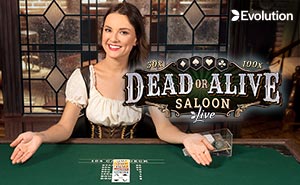 Dead or Alive Saloon
About Dead or Alive Saloon
It's time to head to the wild west as you don your cowboy hat and play Dead or Alive Saloon at the Pink Casino live casino. An interactive card game complete with special features and the chance for players to interact with the live dealer, this game is played with a 52-card deck that is filled with multipliers and special cards which can increase your winning potential
How to Play Dead or Alive Saloon
Like many card games at the LeoVegas live casino, this game is all about predicting which card will be drawn by the dealer. When entering the live studio game space, players can place a range of bets, which can be either a specific card or between a number of values. After betting has concluded, the game will begin, and the card will be drawn. If you win, the amount will be added to your balance.
Dead or Alive Saloon Special Features
Multiplier Cards
Throughout the deck that is used during the card game, there is a range of multiplier cards which increase your winning potential. There is also the chance to see a double card appear, which can offer a multiplier of up to 100x your stake.
Bounty Hunt Event
The other bonus on offer within this live casino game is the Bounty Hunt Event which is activated by a card being pulled from the deck. Within this round, players will be given three targets to hunt, each with a multiplier, and by selecting one of the three options, it will show a multiplier that will be added to your win.