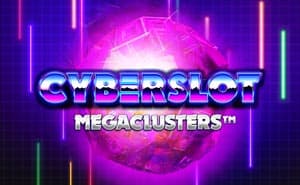 Cyberslot MEGACLUSTERS
About Cyberslot Megaclusters
Neon lights and arcade-style gameplay are at the forefront of the Cyberslot Megaclusters game, combining plenty of old-school and futuristic features to make a universally popular online casino game. Huge win potential acts as the cherry on top of a high-quality instalment from Big Time Gaming, one of our most esteemed gaming development studios.
As the name suggests, the game is based around the clusters mechanic, which has been given a significant makeover with the Megaclusters upgrade. Any winning clusters of symbols that land on the reels will shatter into smaller ones to offer even more opportunities to win. Megaclusters is a unique feature that is rapidly becoming one of the most sought-after amongst slot games players, primarily because of the potential that it can create.
Cyberslot Megaclusters Bonus Features
Free Spins: Most free spins casino bonuses are triggered by landing a specific symbol a predetermined number of times in the same spin, but Cyberslot Megaclusters does things a little bit differently. In place of a bonus symbol, the only requirement is to have 12 winning clusters one-after-another. As soon as you've done this, you'll get to play through 6 spins valued at the triggering stake! For the duration of your free spins, you'll have a supersized set of reels, a roaming wild, and a multiplier to boost any payouts!
How to Play Cyberslot Megaclusters
How to Play: Slot games are some of the most beginner-friendly casino games available to play online, requiring no former knowledge of the title. To get started with some of our best online slots, including Cyberslot, you'll need to choose a stake value; this will determine the value of any payouts you receive, which will be awarded as multiplications of this. Once your stake has been selected, press the Spin button to start playing.
How to Win: You can win by creating winning clusters of matching symbols; whenever a win occurs, it will break into smaller symbols, which can then create more winning clusters. There are plenty of opportunities to bag payouts in Cyberslot Megaclusters.
If you like the arcade gameplay, we would also recommend Starburst slot