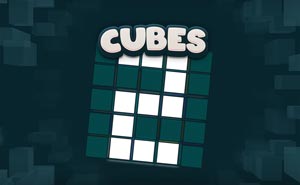 Cubes 2
About Cubes 2
If you're a seasoned online casino player and are more familiar with traditional slots, one look at Cubes 2 will likely raise a lot of questions. Where are all the symbols? Where are the paylines? Visually, this game is a far cry from those slot machines of yore. Cubes 2 offers a sea of pastel-coloured blocks and a set of reels that more closely resembles a mobile game - and this is a testament to the modern approach that Hacksaw Gaming took when creating this slot. Enjoyable gameplay coupled with impressive payout potential ticks all the boxes you could possibly have when seeking out new online slots to play. This is one to watch out for if you're fond of interesting mechanics, immersive visuals, and the ability to pocket an abundance of prizes!
In Cubes 2, wins are awarded when clusters of 5 or more identical colours land in adjacent positions. These colour blocks serve the exact same purpose as symbols in other slots, and you can see the value of each colour in the paytable. With each consecutive win, the reels will expand in size to allow for your combinations to grow into larger, more valuable clusters!
Cubes 2 Bonus Features
Free Spins: Free spins are easily triggered when at least 5 different-coloured clusters land on the reels - and you'll receive 5 free rounds of gameplay in return. For the duration of this bonus, you'll have a randomly-selected sticky colour that will remain fixed in place until the end of your free spins. In this feature alone, you'll get an incredible maximum win potential of 10,500x your stake!
Cubes 2 Buttons
Bet: The game will load up with a default bet amount which will be deducted from your available balance if you choose to continue with it. If you want to change it, just press the up and down arrows to increase and decrease the stake accordingly.
Spin: When you're ready to start playing, press the spin button and watch the reels spin, randomly placing colour blocks. If any of these symbols land in winning clusters, the reels will continue to expand for as long as new or improved wins occur and then your payout will be awarded.
More Retro-Themed Slots