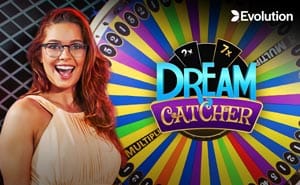 Live Dream Catcher
How To Play Live Dream Catcher
The wheel is split into 54 equal segments. 52 of them are marked with a number (1,2,5,10 or 40), with a unique colour for each number. The other segments are coloured silver (2x multiplier) and gold (7x multiplier). Place your bet on any number you think the wheel will stop at. The wheel is spun by the live dealer, when the wheel comes to a halt, the winning number will be identified by the pin at the top.
##Live Dream Catcher Chip Value
As mentioned before the round starts you are able to place your chip on the number you think the wheel will land on. The value of the chips are £1, £5, £25, £500, and £1000. Choose the chip you want to play with and then the number you'd like to bet on.
How To Win on Live Dream Catcher
Payout odds are linked to the winning number. For example, the number 5 pays 5/1, the number 10 pays 10/1 and so on. There are two multiplier positions on the wheel (2x and 7x). The multipliers will act as bonus spins and multiply the next win.
Bonus Spin Multiplier Rules
If the wheel stops on a multiplier segment, then all bets freeze and the wheel is spun again. The outcome of the next spin will determine the winning wager but the odds will be multiplied by the respective multiplier. If the wheel stops on the multiplier again then all bets remain in place and the multiplied bet from the last spin is multiplied again. The dealer will win the wheel again until the wheel stops on a result 1,2,5,10, or 40. Consecutive multipliers are capped at a win maximum of 500,000 Euros.
Multiplier Win Example
The wheel stops on 2x and on the next spin, it stops on 5. The payout will be 5/1 x 2 = 10/1.
| Number on Wheel | Total Segments | Pays |
| --- | --- | --- |
| 1 | 23 | 1 to 1 |
| 2 | 15 | 2 to 1 |
| 5 | 7 | 5 to 1 |
| 10 | 4 | 10 to 1 |
| 20 | 2 | 20 to 1 |
| 40 | 1 | 40 to 1 |
| 2x | 1 | Next payout 2x |
| 7x | 1 | Next payout 7x |
##Top Online Casino and Slot Games at Pink Casino At Pink Casino, we are dedicated to providing the best online casino experience possible to you. That's why we handpick a selection of amazing casino games. Whether you're a fan of Jackpot slots, Slot Games or Live Casino games like Live Dream Catcher you'll find them all here at Pink Casino. Fancy another live casino experience? Try out the popular Monopoly Live. If you fancy spinning on a slot Rainbow Jackpots has what you're looking for.