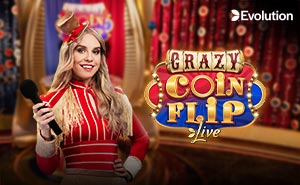 Crazy Coin Flip Live
Crazy Coin Flip Live Key Points
Game Title: Crazy Coin Flip Live
Game Provider: Evolution
Maximum Payout: Multiplier Dependent
Bonus Features: Coin Flip, Top Up
About Crazy Coin Flip Live
If you're looking for a live casino game that combines online slots with a game show, then you're in luck as we introduce Crazy Coin Flip Live from Evolution. An immersive game set in a live studio that features a red and blue side, much like the coin from the final bonus round, this casino game is hosted by a live dealer, who'll be on hand to guide players through all three of the rounds on offer.
Here at Pink Casino, we have many [game shows](/game shows) within our collection. However, this game provides our players who prefer slot machine games the chance to delve into our live casino offerings where they could win huge potential multipliers.
How to Play Crazy Coin Flip Live
Within this live casino game, there are three rounds that players will undertake; the first is across a set of online slot reels where they will need to match three scatters to progress to the next round of the game. If players manage to land three scatters, the multipliers from those will also be carried to the final round of the slot.
Base Game Spin Modes
Within the base game of Crazy Coin Flip Live, there are three spin modes: normal, XXXtreme Spin, and XXXtreme Super Spins, each with particular features available.
Crazy Coin Flip Live Bonus Features
The first additional round players will encounter in Crazy Coin Flip Live is the Top-Up phase. Here players will be greeted by another set of slot machine reels. However, this time they are filled with blue and red symbols complete with multipliers. This round has an allotted time for players to spin the reels, and if they match three of the same colour across the reels, they'll be awarded that multiplier in the final bonus round.
Coin Flip Bonus
The final bonus round is the Coin Flip itself. Here the live dealer will show the multiplier on offer for each side of the coin, red or blue. This is a common prize for all players. The dealer will also make players aware of the other bonus amounts they have accrued listed at the bottom of the game screen.
Following this explanation, the host will then pull a lever to flip the coin, and whichever side it lands on, players will be awarded that winning amount.
Crazy Coin Flip Live Review
A brand new format to the live casino games we have here at Pink Casino, this immersive game is set in a bright and stylish live studio, which helps this stand out from our other games. Not only that, the amount of multipliers on offer also makes this game very interesting.
We're not only a fan of game shows, so as well as live dream catcher, we also have online roulette and live blackjack