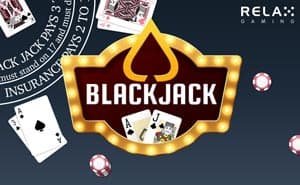 Relax - Blackjack
About Blackjack
The aim of Blackjack is to get closer to 21 than the dealer - without going over. This is the primary goal, and it's because of the straightforward nature of the game that many online casino players have sought out various online versions of the game to find a similar game experience. From live casino tables featuring a dedicated host in which players virtually sit alongside other players from around the world, to games like Relax Gaming's Blackjack in which players get to enjoy a private game against the computer in an attempt to win real prizes - there are plenty of different experiences on offer at Pink Casino, with Relax's Blackjack being a fantastic one for many types of players!
Online Blackjack forgoes a lot of the complexities of other casino games, honing in on a minimalist screen for players to focus on getting their hand as close to 21 as they can without going bust. This is perfect for those who are new to playing Blackjack, meaning they can get accustomed to the rules without overcomplicated casino bonus rounds. One of the most user-friendly features on offer that we think our Pink Players are going to love is the fantastic Best Move Indicator which does what it says on the tin! Every time a card is dealt, this indicator will highlight the choice (between Double, Hit, and Stand) that is mathematically the best move. This isn't always guaranteed to be right, however, as hands are always random - it should simply be taken as a suggestion. If you'd prefer to turn it off, that option is available to you at all times.
How to Play Blackjack
Chips: There are various chips available, valued at different amounts, at the bottom of the screen. Pick the chip that best suits your budget and place it in one of the boxes.
Deal: If you're happy with your bet and are ready to start playing, press the Deal button to get going. The computer will deal you two cards - and two will be assigned to the dealer, with one facing down. Judging by the overall value of your current hand, and the potential value of the Dealer's hand, you need to decide your next move accordingly.
Stand: If you choose to Stand, the Dealer will not give you any more cards - this would be a good option if you think your current hand is as close to 21 as you could get without going over.
Hit: If you select Hit, the Dealer will give you another card - this is a good option if the value of your current hand is low enough to not bust you with an extra card.
More Online Blackjack Games