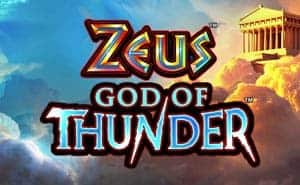 Zeus God of Thunder
If the special background lines up behind 3 or more symbols consecutively on the same row, it'll activate the Wheel Spin feature!
Zeus Slot Buttons
Bet/Line
Click the plus and minus arrows to increase or decrease your bet and the value of the lines you want to play.
Bonus Active/Bonus Inactive
Two slabs will appear on the game screen. One will illuminate when a bonus is active.
Autoplay
Select the 'Autoplay' button to access the autoplay settings. Once here you can determine how many spins you wish to play. You can also set limits. To stop this function simply click 'Stop'.
Spin
Select the 'Spin' button to spin the reels and begin the game.
Zeus God of Thunder Slot Features
Wheel Feature
With this online slot the Wheel Feature is the main attraction. It can be triggered when it lines up behind 3 or more symbols in the same row. The number of backgrounds will depend which Wheel Feature you activate. There are three wheels ( 3 wheel, 4 wheel and 5 wheel) this is based on the number of consecutive backgrounds and symbols. The higher the number of wheel the more lucrative it is. Each wheel can award a selection of Free Spins or a Jackpot.
Jackpot Feature
There are a number of Jackpots in this online slot game. Each Jackpot that could be earned will depend on which wheel number has awarded you the Jackpot. There's a mini and minor jackpot, a major jackpot, plus a mega and grand jackpot. 3 Wheel: mini and minor, 4 Wheel: minor and major, 5 Wheel: mega and grand.
Wild Spin Bonus
It is possible to earn spins with a random number of wilds attached to the reels. The wilds added to the spin will determined by the wheel that triggered the Bonus. 3 Wheel: up to 5 random wilds, 4 Wheel: up to 6 random wilds, 5 Wheel: up to 7 random wilds.
Free Spins Bonus
The Free Spins Bonus introduces another set of reels. However, as above, the number of Free Spins will depend on which wheel awarded you the bonus round. There's 100 Free Spins up for grabs in total. 3 Wheel: 7 Free Spins, 4 Wheel: 12 Free Spins, 5 Wheel: 50 Free Spins.