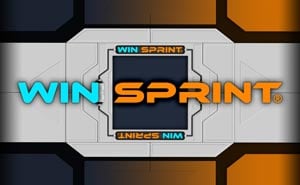 Win Sprint
You've heard of the old adage 'the finer things in life' well now you can enjoy the simple things in life with the Win Sprint slot game. Win Sprint slot game has 1 excellent bonus round that offers re-spins and multipliers based on how many symbols you land on the given paylines. Whether you like the old classics or you're looking for something more futuristic, there's something here for you. Will you cross the finish line first?
Win Sprint Buttons
Bet
The bet button will allow you to select your wager from the panels given.
Spin
When you are happy with your wager hit the 'Spin' button, which will give you the chance to spin the reels and watch them land randomly.
Auto
The 'Auto' function allows you to set a predetermined number of spins at a specific wager level.
Paytable
The paytable allows you to browse the paylines, winning combinations and bonus features.
Bonus Rounds
Win Sprint Symbols
There's a range of different symbols on Win Sprint one of which is the cherry symbol, which pays 1x your stake whereas the Lucky 7 will pay a huge 250x your stake.
Win Sprint Bonus Feature
There's 3 letters on the reels that spell 'win' and if you land this then you'll gain a cash prize and trigger the bonus feature. If you spell win on 1 payline you will be awarded 1 spin and a 1x multiplier. If you land 'win' on 3 paylines you will get a 3x multiplier and 3 re-spins. 5 and you will get 5 of each respectively.