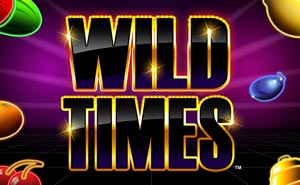 Wild Times
Wild Times features 5 paylines in the Base Game, played across a 3x3 reel. Each Wild comes with a multiplier, to multiply your win up to 5x!
Buttons
Stake/Line
Stake/Line represents how much is going to be staked on each payline in the next spin. Use the up (+) arrow to increase the Stake/Line, and decrease it by using the down arrow (-).
I Button
Press the I Button to view the games paytable, which shows you how much you could win with each symbol. You'll also be able to find out any other information about the game that you may need.
Big Bet
The Big Bet button will play a game with a higher stake, but also enhanced features and a bigger chance to win.
Spin
When you know how much you would like to stake, press the Spin button to place your bet and start the next game round.
Bonus Rounds
Multiplier Wheel
Each time a Wild is used in a winning line, you'll get to spin the Multiplier Wheel to win a multiplier to apply to your winnings. You'll either win a 2x, 3x, 4x or 5x multiplier. If you use 2 Wilds on a single payline, then you will be awarded a Super Wild Win. You'll get to spin the Multiplier Wheel win 2 times, with each value being multiplied together for huge wins.
Big Bet Feature
Using the Big Bet feature, you can play with £10, £15, £20 or £25, with each stake offering different bonuses. The Big Bet game will give you 5 spins, which will be played on a 3x3 reel with 27 Any Way Pays Lines. Just like in the normal game, any Wilds used will be given a chance to spin the Mulitplier Wheel, and 2 Wilds will award a Super Wild Win. Each stake will change the value of the multipliers on the wheel. The initial £10 stake will use the same values as the base game. For £15, you'll get x3, x4, x5 and x6 values. For £20, you'll get x4, x5, x6 and x8 values. For £25, you'll get the biggest options of values with x5, x6, x8 and x10. All wins in the feature are cumulative, so your total winnings will be awarded to you when the spins are over.