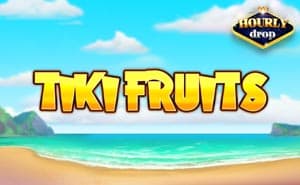 Tiki Fruits
Tiki Fruit Buttons
Total Stake
Before you play Tiki Fruits online slot, you must pick the amount that you want to stake, using the plus or minus buttons will either increase or decrease the amount.
Spin
To get the game started, simply press the spin button and the reels will spin, landing the symbols in potentially winning combinations.
Paytable
To access the paytable in Tiki Fruits online slot, you can press the button entitled 'Pays.' The paytable will show you the amount that each symbol is worth, the paylines of the game and how to trigger the bonus features.
Tiki Fruits Bonus features
Fruit Bars
If you fill the fruit bars on the right hand side of the reel then the corresponding symbol will be removed from the reels, this creates more room for higher paying symbols to fall down. At the end of reach round the bars will be reset, except during the Tiki Spins bonus when the bars won't reset until the end of the bonus.
Totem Activator
This bonus can be triggered at any time during the slots game, removing symbols from the reels meaning that you get empty spaces. The empty spaces will then be filled by new symbols, hopefully creating some winning combinations.
Tiki Spins
When the bonus bar gets full, this means that the Tiki Free Spins round is triggered. When this is activated, you will receive a random number of free spins to play. During the spins, the bonus bars won't reset, meaning that you will get the chance to remove lower paying symbols from the reels, giving more chance of winning combinations in Tiki Fruits online slot.