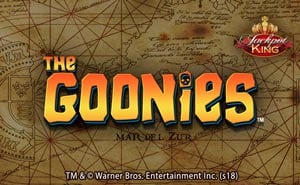 The Goonies Jackpot King
About The Goonies Jackpot King Slot Game
We're sure you're familiar with the origins of this slot, the cult classic film that has inspired countless coming-of-age stories and has now spawned a couple of well-received mobile slots thanks to gaming providers, Blueprint. Much like some of their other titles The Goonies Jackpot King offers an abundance of bonus features to offer varied gameplay and fantastic payout potential.
The Goonies joins a series of Jackpot King slots available at Pink Casino and these have proved to be some of the most popular online casino games according to our players who flock to these jackpot slots for the chance to win one of the prize pots! These are a special type of progressive jackpot as the prizes are shared across a plethora of games that can be won by anybody who spins through one of the slots. Looking for a potentially high-payout game? Take a look at our collection of Jackpot King games!
Much like its non-Jackpot King counterpart, The Goonies serves up some fantastic graphics that suit the theme perfectly right down to its character design. Your high-value symbols include some pirate-esque moments from the film, including the Scales, Skeleton, Ship, and Treasure Chest - in ascending order of value. The low-paying symbols are made up of the classic card values of J-A with some extra symbols thrown in for good measure to add to the experience; Bonus and Wild symbols roam the reels to offer even more value to your traditional gameplay.
The Goonies Jackpot King Bonus Features
One-Eyed Willy's Bonus
From Free Spins to 'pick-me' style rounds, there are plenty of bonus features to activate by landing at least 3 Bonus symbols on the reels and spinning the wheel to reveal the bonus that you'll receive from the following:
Fratelli Hideout
The notorious Fratelli gang are hiding out in their base. Sneak into their lair in search of treasures and you'll be presented with 3 golden keys, all with their own unique prizes. Keep going until you find the Collect key, which will end the feature and award your total prize.
Skeleton Organ Bonus
This is another 'pick-me' bonus in which you'll be tasked with assembling the bones of a skeleton to reveal its treasure. Discovering the Pirate Skeleton will upgrade your winnings while the Skeleton Key will unlock the door to even better prizes. If 3 Jolly Roger flags are hoisted onto the reels the feature will end and the prizes will be awarded.
Super Sloth Free Spins
If the wheel lands on this feature you'll be awarded 10 spins to play through in a feature inspired by the character. If Sloth runs across the reels, Super Stacked Symbols will appear in his wake - and these symbols are hugely important as they're the most valuable of all the symbols in the game.
The Goonies Go Wild Free Spins
This Free Spins round does what it says on the tin; The Goonies will all become Wilds to give you more opportunities to land a winning spin. At the end of the feature, you'll get to choose from 5 coins for the chance to receive additional free spins.
Inferno Free Spins
One-Eyed Willy's pirate ship sets sail in the Inferno Free Spins round, and this comes with the added bonus of activating up to 3 Wild Reels with every spin!
One-Eyed Willy's Treasure
Everyone wants One-Eyed Willy's treasure, but only you have the chance to uncover it. Spin the wheel and you'll be awarded a colour-coded prize; Green leads to cash multipliers, Red will increase your current win amount, and Silver will upgrade all available prizes. If you land on a Booby Trap the scales will become unbalanced and the feature will end.
One-Eyed Willy's Riches
Not only do you get some fantastic bonus rounds packed full of variety and potential for payouts but you also have the opportunity to uncover one of the randomly activated modifiers from the One-Eyed Willy's Riches selection of features.
Mikey's Hidden Treasure
In the words of the wise Mikey, "Goonies never say die!" Take cover as loose rocks tumble down! Mikey will scramble onto the reels in the form of Wilds to create more opportunities for winning symbol combinations.
Mouth's Lucky Coins
Mouth spills his lucky coins across the reels! When they land they'll all transform into identical symbols for increased payout potential!
Sloth's Win Spin
Hey, you guys! Watch Sloth run across the reels and you'll be awarded some powerful Super Stacked Symbols for an increased chance to win!
Data's Colossal Symbols
A random Colossal Symbol will take over most of the positions on the reels. When all symbols are in position the Colossal Symbol will be smashed into regular size versions for a guaranteed combination of matching symbols!
Chunk's Truffle Shuffle
"First, you gotta do the Truffle Shuffle." Chunk will perform his signature move and apply Wilds to the reels in random positions.
One-Eyed Willy's Bonus Boost
If the One-Eyed Willy Bonus Boost is randomly triggered the relevant symbol will entirely fill the reels and take you to the One-Eyed Willy Bonus Wheel where you'll spin it as normal to reveal which of the bonus features you'll be awarded!
How to Play The Goonies Jackpot King Slot
Stake
The Goonies Jackpot King slot looks similar to many other Blueprint Gaming slots when it comes to its interface; you can adjust your stake by clicking the Bet button and choosing an amount from the grid of available increments. There are plenty of stakes available for you to choose from so there will be an amount to suit your preferences regardless of budget.
Autoplay
The Autoplay button is located just below the Spin button; click this to expand the menu where you can choose the number of spins you would like to automate at the current bet level. There are optional settings for you to add on - a loss limit and win limit, which will force the feature to end prematurely if the parameters are met or exceeded.
Spin
Give the reels a spin once you've double-checked the current stake and the rules of the slot. Pressing this button will deduct the bet amount from your available balance and randomise the position of the symbols on the reels.
Pink Casino's The Goonies Jackpot King Online Slot Game Review
There are plenty of bonus features in The Goonies Jackpot King to make gameplay unique and varied with every spin, and we love the addition of modifiers which are often overlooked in online casino games in favour of non-random bonus features. Being able to randomly activate a modifier increases payout potential, and we think this is going to be a hugely popular aspect of the game. In terms of gameplay, this is very similar to the normal The Goonies slot but with the powerful addition of the Jackpot King prize pots which could have you walking away with some incredible winnings! If you're a fan of other Blueprint Gaming slots like ThunderCats slot then this is definitely a game to watch out for! Don't forget to keep your eyes peeled for new posts on our online casino blog for reviews on new slots, how-to guides, and much more!
##Best Online Casino and Top Slot Games at Pink Casino Having a great time whilst you play is important to us at Pink Casino. That's why we handpick a selection of top casino games from Online Slot Games to Live Casino games. Can't make your mind up on what to play? Take a look at Fishin' Frenzy or Eye of Horus Slot Game. If you fancy bringing the casino to your fingertips why not try Online Blackjack, Live Roulette or something a little different like Monopoly Live?