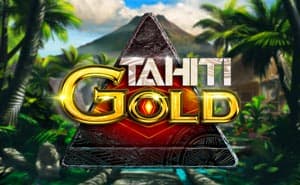 Tahiti Gold
About Tahiti Gold Slot
The tropical soundtrack perfectly sets the scene for the Tahiti Gold online casino game, a volcanic powerhouse of a slot game that could not only award some impressive prizes but also deliver some unique bonus features that are a welcome addition to gameplay.
The game sits on a large 6x4 grid with gorgeous scenery in the background and high-quality graphics to boot. If you think that the proportions of the reels look a little bit strange at first glance, there is a good reason for it! This grid increases to 6x5 in the Eye of Tiki bonus feature so it fills up much more of the screen if you're fortunate enough to trigger this elusive bonus. The bonuses on offer are greatly enriching extras that complement the main game nicely - although its paytable is strong enough to stand on its own.
Tahiti Gold Bonus Features
The casino bonus features on offer in the Tahiti Gold slot are the primary draw of the game, adding some greatly beneficial bonuses that make gameplay even more enjoyable. While many slots tend to focus on delivering a sole bonus round to reward players, Tahiti Gold has the potential to trigger 3 features - so keep your eyes peeled for new ways to spin your way into some incredible payout prizes!
Wild Forge: The Wild Forge is filled with ancient molten gold and, in this vein, it could make your gameplay rounds even more valuable. These Wild Forge symbols could land on any reels (barring the first two), and pour Wilds into the positions below.
Avalanche: While Tahiti is stunning it is also a force of nature and avalanches could happen at any moment! A winning symbol combination will result in one of these avalanches which will remove the winning symbols from the grid and allow brand new ones to fall in from above.
Eye of Tiki: The Eye of Tiki is a lava-filled symbol in the shape of a mysterious eye framed by a triangle - if at least two of these symbols appear then your set of reels will increase in size by an additional row. More space on the reels means more potential winning combinations!
How to Play Tahiti Gold
Stake: As with all slot games and alternative casino games, it's important that the stake matches the budget you've got in mind. If the default stake isn't suitable, you can change it quickly and easily by pressing the Coin icon and picking out a better bet amount. This will be deducted every time the reels spin but you can change it later on if you want to, as long as there are no spins in progress.
Spin: If you're happy with your bet and you're comfortable with all the rules of gameplay, you can press the Spin button and the reels will rotate for a single round of gameplay. Any wins will be highlighted and immediately awarded. You can alternatively configure Autoplay to spin for your preferred number of gameplay rounds without needing to manually spin every time.
Pink Casino's Tahiti Gold Slot Review
While it's really simple to play, the concept behind it is surprisingly unique and it's packed full of interesting extras that will be a sight for sore eyes if you're someone who's after modern gameplay rather than a traditional slot machine experience. Avalanches, Wilds, and a bigger set of reels could await players in the tropical Tahiti Gold slot game!