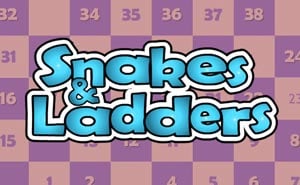 Snakes and Ladders Deluxe
Snakes and Ladders slot game
Snakes and Ladders is a three reel, 5 line slot game which awards wins for matching 3 consecutive symbols, left to right on any active winline.
How to play All five lines are always in play. Select the total bet value by using the arrow buttons and click 'Start' to spin the reels. When a winning line is obtained; the winning symbols will be highlighted and the total amount won will be shown.
SNAKES AND LADDERS BONUS FEATURE
Snakes and Ladders bonus Three or more dice symbols appearing on a win line begins the feature round of a game of Snakes and Ladders. To begin the feature, press the dice button to roll the dice and to move around the board. Landing at the base of a ladder will result in moving up the board and landing on a head of a snake will result in moving down the board. Continue to roll the dice until landing on a blue numbered square, which gives a payout equal to the bet value multiplied by the blue award value. Landing on a blue award square after rolling a double, multiplies the total win by 2.
Landing on 'Jackpot Repeat Chance' awards the jackpot amount and the opportunity to win the prize again up until 9 times in any one game.