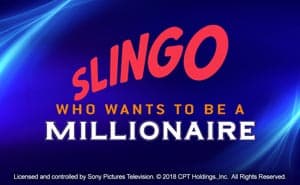 Slingo Who Wants To Be A Millionaire
About Who Wants to Be a Millionaire Slingo
The Who Wants to Be a Millionaire Slingo game offers a hugely unique payout structure that is fairly unique when it comes to online casino games and makes for a nice alternative to some of the other game show Slingo games that are available to play at Pink Casino.
In this game, inspired by the popular series of the same name, you'll spin your way toward potential Slingos - these are also commonly referred to as paylines or winlines and are the vertical, horizontal, and diagonal lines that make up the game grid. Every Slingo you win will reveal a lifeline symbol - once you have 3 of a kind of these lifelines you'll win the relevant prize, starting at 0.5x and reaching all the way up to an impressive 10,000x. One of the most unique aspects of the game, however, is its jackpot - get a Full House within 7 spins and you'll win a tidy 100,000x your stake!
Like slot games, rounds are quick and there are payout opportunities aplenty, but the bulk of the gameplay is mostly similar to online bingo where the aim of the game is also to try and complete as many lines as possible.
How to Play Who Wants to Be a Millionaire Slingo
Stake: Press the Stake button and a drop-down menu will appear with all available stakes that you can use for your gameplay. Unlike in traditional slot machines, this amount is not taken per spin - it actually entitles you to 9 spins all valued at the initial stake. There are opportunities to win free spins and purchase extras if you want to extend your Who Wants to Be a Millionaire Slingo gameplay.
Spin: Press the Spin button when you're ready to play and the first of your spins will start, revealing a random selection of numbers and/or alternative symbols in the 5x1 reel below the grid. If any numbers match those that are present on the grid, they will be marked off. Spins will happen automatically so you don't have to press Spin every time you want to start the next round.
Who Wants to Be a Millionaire Slingo Review
If you're after a game show-inspired casino game with some incredible payout potential then Who Wants to Be a Millionaire is certainly one to add to your shortlist. With up to 100,000x available to win for players that manage to complete a Full House within 7 spins and some additional payout possibilities throughout gameplay, the structure of the payouts is incredibly generous. Plus, fans of slot games with casino bonus features will be pleased to know that there is room to win plenty of Free Spins and the open-ended spin purchase option allows you to buy as many additional spins as you want!
More Game Show-Themed Slots