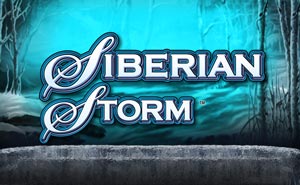 Siberian Storm
Siberian Storm Slot
Siberian Storm is a 5-reel online casino slot that dispenses with traditional paylines and instead offers 720 ways to win. Right from the start, you will know this game is different because of its offset, hexagonal face. Traditional slot games offer simple straight paylines horizontally and diagonally. Not Siberian Storm. This game offers an entirely unique experience that is hard to find anywhere else. In addition to providing 720 ways to win, Siberian Storm also offers IGT's MultiWay Xtra feature. This feature increases your chances of winning dramatically by awarding you for any three adjacent symbols regardless of whether they originate from the left or right. With 720 ways to win, you could walk away with a huge payout.
Snowy theme got you feeling festive? Don't forget to head over to our online casino blog for our favourite Christmas slots!
Siberian Storm Slot Gameplay
There are no traditional paylines in this game, so the only thing necessary to get started is to set your wager. The minimum wager is one coin placed across all 720 ways for a total of 50 coins per spin. Coins are represented in the player's chosen currency. To begin, use the + and - symbols next to the coin value window to adjust your wager. Wagers increase or decrease according to the most common bets for this game; they do not move incrementally. Once your wager is set, click the 'Spin' button to begin play or click 'Auto Spin' to let the game spin for you. You will have an opportunity to choose the number of spins you want to be played automatically. To stop auto spinning, just click the 'Stop' button, otherwise, the game will keep going until you either trigger the bonus round or run out of coins.
Siberian Storm Slot Features
Scatters & Wilds: The scatter symbol in Siberian Storm does not trigger any particular bonus feature. Rather, it pays additional awards as long as you achieve three or more on any of your reels, in any position. The more scatter symbols you get, the greater your award. Scatter symbols do not have to be adjacent and need not originate from either side of the reels. Wild symbols are just what you would expect. They substitute for all other symbols except scatter and bonus symbols. They can be used to create winning combinations with other symbols, or by themselves. By the way, wild symbols can be stacked for even more opportunities to win.
MultiWay Xtra Feature: In a multi-way game – as opposed to a traditional slot with individual paylines – symbols that make up winning combinations need only appear on the adjacent reels. They don't have to appear in the same position. This essentially means you can create a winning line horizontally, diagonally, or even in a zigzag pattern across the entire screen. IGT takes the multi-way concept one step further with their MultiWay Xtra feature. With MultiWay Xtra, there is no need for your winning combinations to originate from the left. Instead, winning combinations can originate from either side of the reel. Even greater winnings are made possible by achieving additional identical symbols on the same reel for a single spin. For example, imagine getting lion symbols on reels one, two and three. You win the award for that combination. But you will win extra if you have a second lion symbol on any of those reels, regardless of its position. Your award is multiplied for every additional matching symbol you achieve on the winning reels for that spin. Add in the potential to create winning combinations with wild symbols and it easily becomes apparent that you can really win big with MultiWay Xtra.
Free Spins: The bonus symbol is the key to triggering the Free Spins bonus round. You will trigger the round when you achieve at least one bonus symbol on each of the five reels during standard play. Each winning combination awards you with 8 extra spins to start the round. However, bonus symbols are like wild symbols in that they can be stacked. In theory, this means you could get as many as 96 free spins just by triggering the bonus round. But it gets better. Additional free spins can be triggered within the bonus round by achieving a bonus re-trigger symbol in any position on each of the five reels. Get this combination and you'll get an additional eight spins. The round allows a maximum of 240 free spins before returning you to standard play. During the bonus round, the value of your wager is identical to the wager you placed on the standard spin that triggered the round.
Additional Information
Siberian Storm pays for all winning combinations consisting of at least three identical symbols (with or without wilds) originating from either the left or right positions. If multiple MultiWay Xtra wins occur on the same reels of a standard spin, only the highest win is awarded. Awards are determined by multiplying the coin value by the value of the winning symbols in the combination. During standard and bonus play, wild symbols only appear on reels 2, 3, and 4. Scatter and bonus symbols can appear on all reels. When multiple scatter symbols result in an award, the payout is multiplied by the total bet for that spin. Players can keep track of their winnings and the value of various payouts by consulting the paytable. Siberian Storm has an award limit for a single transaction. Upon reaching the limit, the game will automatically stop and no more payouts will be awarded. Any game malfunction or misuse will also result in-game stoppage. All pays and plays will be voided.