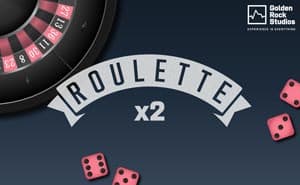 Roulette X2
About Roulette X2
Similar to the standard game, Roulette X2 boasts incredible win potential by giving players the chance to double their winnings through its brilliant dice feature. After a winning bet, 4 dice will roll - if they're all identical when they finish rolling then the prize money will be doubled (hence the x2 in the title). It's as straightforward as that! Aside from this feature, the Roulette X2 casino game is comparable to the classic version of the game in nature.
Roulette X2 Bonus Features
Golden Rock Bonus
Once you've placed your chips in your preferred sections of the board, if the spin of the wheel reveals a number that matches your bet then you'll be awarded a cash prize! That isn't the end of the round, however; you could double this payout value if the 4 dice reveal identical values.
How to Play Roulette X2
Chips
To adjust the amount of money you want to stake, and to tailor the chips to suit your preferences you'll first need to pick out the value of the chips. Beneath the grid, you'll see a row of chips all with different values. Select the one that is best for your table games budget and you're good to go! If you want multiple chips to be on the board, all with different values then you can absolutely do this - just make sure to double-check which chips you've selected before you start placing them.
Placing Your Bet
Select the number that you think the ball will land on once the wheel has finished spinning. You can also choose a section of numbers including the first 12, evens, odds, and more.
Quick Chips: If you want to place your chips on multiple numbers you can simply drag over the preferred numbers and the chips will be left in the cursor's wake.
Neighbours Bet: Click the racetrack icon and you'll be taken to an alternative betting board where you can stake 5 bets simultaneously by clicking on your chosen number. This will also highlight 4 other numbers around it for an increased chance to win a prize.
French Bets: Also on the racetrack board you have the option to select one of the three French betting selections - these include a variety of numbers that cover a portion of the wheel.
Pink Thinks: Roulette X2 Review
If Euro Roulette is one of your favourite slots then this will be a nice upgrade from what you may be accustomed to. The main Golden Rock Bonus offers the ability to double your winnings, as the name of the game suggests, so the payouts from Roulette X2 could be incredible! If you'd prefer one of our casino games, we've got plenty of titles for you to choose from!