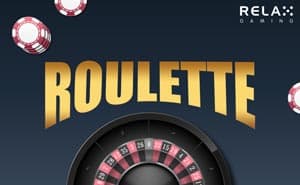 Relax Roulette
About Roulette
The Roulette game comes from the renowned studio at Relax Gaming, offering a modern version of the famous casino game with a 21st-century twist to optimise it brilliantly for online casino games players. While some table games games are embellished with an abundance of bells and whistles in the form of features, rules, and complicated gameplay, Relax Gaming's Roulette game is effortlessly simple and straightforward to pick up and understand.
If you're new to playing Roulette, it's as simple as predicting where the ball is going to land on the wheel - and there are plenty of bet types available for you to stake your chips on, so your bet can be as unique as the gameplay!
A feature that we particularly like here at Pink Casino is the heatmap - this allows you to view your historic bets and the game statistics thus far. You can access this in the settings menu - everything is displayed logically and the screen is nice and minimalist so the focus is on the board and the wheel rather than the background or graphics.
How to Play Roulette
Chips: Below the table is a selection of chips of various colours - all with unique values attached to them. Choose the chip that best suits the budget you have in mind for your Roulette gameplay and place said chip on the section(s) that you think the ball will land on when the wheel finishes spinning. You can place more than one chip on the board during a single round.
Placing Chips: There are plenty of segments on the board for you to place your chip(s). You can choose to place a chip on a single number (a straight), two numbers (a split), three numbers (a street), four numbers (a corner), or six numbers (a six-line). Alternatively, you can pick one of the options on the outside of the main grid - there are options here including dozens, odds, and reds - all of these outside options cover more bases than a standard bet, but the potential payout if these win is less substantial than a straight bet - which has the highest payout ratio of 35:1.
Spin: When you're happy with your total bet for this spin, you can press the Spin button to start spinning the Roulette wheel to the left of the board. If you win, your prize will be awarded and put straight into your available balance.
Roulette at Pink Casino
While Relax Gaming's Roulette game is a fantastic offering for budding Roulette players, it's not the only version of the game that players can choose to play if spinning the wheel is something they're looking to do while playing at Pink Casino. You could alternatively head over to our 24/7 Live Roulette room, a live casino title presented by a professional host to guide you through the game.
Don't forget we have a huge catalogue of slot games and bingo games to suit all types of online players.