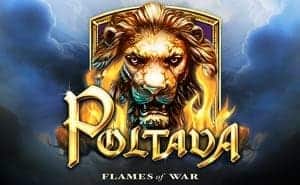 Poltava
Poltava Flames Of War - Introduction
Our symbols are causing mayhem in Poltava Flames of War online slot! This extraordinary online slot offers 5 reels on 3 rows an opportunity that you won't want to pass up to keep 40 paylines active while in the game. During gameplay, you will come across symbols matching the theme, some of these symbols include the following: artillery cannons, the lion's head, the white cavalry horse, a soldier with a pistol, as well as the classic card deck symbols ranging from 10 to Aces. Stay on watch as these symbols all carry a different value with them such as the white horse symbol, this is the highest paying symbol as it can award you with a large coin win. Apart from this, you can also have a number of special symbols on your mission. The Poltava Wild symbol which is tough not to notice. Whilst, the lion's head acts as the Scatter symbol which can take you to new heights! Now you know what our symbols offer, feel free to charge into Poltava Flames of War online slot!
Poltava Flames of War - Buttons
Total Bet
Take charge in the chaotic battlefield in Poltava Flames of War online slot! Select the Total Bet button which looks like a stack of coins and this will divert you to a page where you can bet from as little as 20p to a fiery £100!
Spin
3, 2, 1 FIRE! Make sure before you begin Poltava Flames of War online slot that your total bet value is secured and you're satisfied, then you can simply click the spinning arrow to spin the reels!
Poltava Flames of War - Features
Poltava Flames of War Scatter Bonus
Guard your sacred reels in Poltava Flames of War online slot to see if any matching symbols trespass. If you land on three of the lion symbols, a bonus feature is then triggered. It will trigger the main feature of the game which contains a free spin feature, with a lucky three spins. Although you may think 3 free spins is not enough, this can ride you to success! As the lion appears, it will stick and become frozen in place which will then turn into a beloved Sticky Wild also an extra spin will then then be added.
Poltava Marching Reels Feature
March into your dream fortune on Poltava Flames of War online slot! If you manage to land on 4 of the soldier with a pistol, artillery canon, or the cavalry horse symbols you will activate the Marching Reels feature. As this occurs, you will be awarded a re-spin, which in its turn will ensure that one of the same symbols will turn up and create more re-spins as it does. This feature and the Marching Reels re-spins continue until you reach reel 5, if no new symbols are added to the combinations.