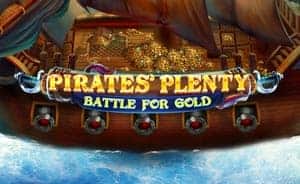 Pirates Plenty Battle for Gold
About Pirates Plenty Battle For Gold Slot
The Pirates Plenty Battle For Gold online casino game follows on from the voyage you may have embarked on in the original Pirates Plenty in which a ship full of infamous marauders travelled the seas in search of the legendary sunken treasure that included multipliers, Wilds, a Free Spins casino bonus, and more! Now the pirates are back, and they're battling for even more gold! Red Tiger, as with the previous title, are behind Battle For Gold and their passion for gorgeous design is prevalent in the graphics and animations. The game opens up into the gold-filled belly of a ship fresh from a successful pillaging with the reels built into a transparent section of the wall of the ship. There's a pretty colour palette in use, particularly in regards to the bruised sky cluttered with stormy clouds. If you like your casino games to be designed with a brilliant eye for detail and style then you're going to want to give Battle For Gold a try.
The 5x3 reels can expand to 5x4 to give you a bigger platform to gather wins across its 20 fixed paylines (with 10 additional paylines on offer if your voyaging efforts lead you to the big red X of Wild Island Row). Keep your wits about you as you explore the deck of the ship as the inquisitive-but-friendly Wild Monkey could make an appearance and steal your low-value symbols, but worry not as he will also trigger a re-spin featuring only high-value symbols! This is a great feature for increasing your potential to win big, and it could randomly trigger on any spin! You could also charge into battle with an opposing force by landing at least 3 Battle Spins symbols, which will unlock the Battle Spins round, which rewards players with some brilliant free spins and potential Wild Bombs which Captain Blackbeard may launch onto the reels. This slot boasts some excellent bonuses that help it to stand out in a crowd of pirate slot games.
Among the symbols on offer are low-value card values, Clubs, Diamonds, Hearts, and Spades - in ascending order of value. Heading up the high-value symbols is the famous Skull and Crossbones iconography, but you also have some brilliant imagery that ties in perfectly with the game's theme - including the emblem-bearing tricorne, the freshly-fired cannon, Flintlock pistol, and a bottle of rum.
Set sail from your mobile, tablet, or even a trusty old desktop!
Pirates Plenty Battle For Gold Special Features
Wild Monkey
The ship's resident monkey roams the decks looking to fill his satchel with low-value symbols, so avast ye buccaneers! If he bounds onto the reels and scoops up your low-value symbols he won't leave you empty-handed; the reels will be re-spun and the Wild Monkey will offer you high-value symbols only to increase the chance of a bigger payout!
Wild Island Row
Legend tells of a mysterious land that can only be found by following an ancient treasure map across the perilous ocean past deserted islands and the abominable Kraken that haunts the depths of the sea. Make it past these obstacles and Wild Island Row is all yours! This will open up an additional row located above the 5x3 set of reels, and increase the number of paylines.
Battle Spins
If you land 3 Battle Spins symbols be ready to batten down the hatches; this will launch the feature of the same name and send you into battle alongside your crew with some free spins to play through. Land a Fire! symbol to fire a Wild bomb at the reels with the potential to trigger some additional free spins.
How to Play Pirates Plenty Battle For Gold Slot
Stake
Choose a stake by clicking on the relevant button and choosing from the list of available bets per spin; these range from 10p to £20, so there is bound to be an amount suited to your preferences.
Autoplay
The Auto menu offers a few settings for players to tweak as much or little as they like. Select between 10 and 100 automated spins and decide on a Loss Limit that will automatically end the feature if it's exceeded; these are the only essential settings, but you have the ability to add extra parameters to suit your play style. A win limit is available and you can even make it so that the Autoplay feature will end when a bonus feature is triggered.
Spin
Whether you change the stake or leave it at the default, make sure to check this before you start spinning; once you're happy and you're comfortable with the rules, you're ready to spin! Hit the button and watch the reels spin into motion, randomising the position of the symbols.
Pink Casino's Pirates Plenty Battle For Gold
The original Pirates Plenty was a roaring success with Pink Players and it's clear to see why; Red Tiger does a brilliant job of combining next-level graphics with a user-friendly interface and genuinely impressive potential payouts. The sequel is no different in this regard, offering up to 5,000x! There's no scrimping on the design of the slot either; the reels are built into the wall of the ship surrounded by swaying lanterns and piles of freshly-looted gold to bring the theme to life. The Battle Spins bonus feature is a great feature to trigger, so keep your eyes peeled for those Battle Spins symbols. The Wild Monkey modifier is a nice addition, too, randomly appearing to re-spin the reels with high-value symbols only. If you're familiar with Red Tiger slots then this is a great addition to their collection of gorgeously-designed casino games that will not disappoint.