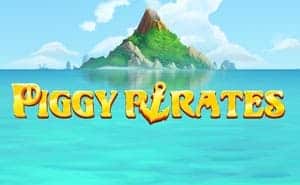 Piggy Pirates
About Piggy Pirates Slot Game
Piggy Pirates online slot game is the newest release from popular game providers Red Tiger. This swashbuckling pirate adventure is set between two pirate ships with a tropical island as the background. The 6x4 slot is filled with symbols such as treasure maps and cross bones, making for a buccaneering time.
Piggy Pirates Buttons
Total Stake The totals take is the amount that you wish to play with, this can be either increased or decreased using the (+) or the (-) button.
Spin Once you are satisfied with the total of your bet then pressing the spin button will get the game started.
Paytable The paytable contains all of the information that you need to know about this online slot game, this includes the paylines and the value of each symbol.
Piggy Pirates Bonus features
Piggy Bonus The piggy bonus scatter symbol may just land on any one of your reels and then move position horizontally with each spin. The scatter symbol will leave the game when it reaches the farthermost reel. Each of the piggies can fall asleep during a couple of these spins and they will remain in position until they wake up., this increases the chance of collecting all of the piggies which will trigger the unlimited free spins bonus.
Unlimited Free Spins In the Unlimited Free Spins bonus, wild coins may land on the reels to be collected by the Piggies. In the final spin of the bonus, all of the wild coins will be released on to the slot at the same time, meaning you may have a higher chance of winning big.
Big Bad Wolf The Big Bad Wolf only appears on the last reel of the Unlimited Free Spins bonus round. The Big Bad Wolf will end the unlimited free spins of the game, but when this happens all of the coins collected will be released on to the reels for potential big wins.