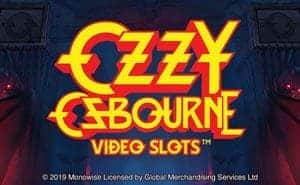 Ozzy Osbourne
About Ozzy Osbourne Slot
The Ozzy Osbourne slot game was developed by NetEnt and is based on the classic rock legend himself, Ozzy! While his songs don't feature in the soundtrack of the online casino game, it's very overtly designed around the man's aesthetics and legacy, with dark colours and gothic statues peppering the reels. We particularly love the shout-out to one of his biggest controversies as the top-paying symbol is represented by him biting the head off a bat.
This follows on from other music-inspired slot games from NetEnt, but we think this one is particularly innovative thanks to its Symbol Charge Up feature which makes an appearance during the Free Spins and Re-Spin rounds to give you the opportunity for upgraded payouts. The Bonus Bet is an opt-in feature that you can enable whenever you like at a higher stake in return for more free spins, bigger multipliers, and a better chance of triggering one of the bonus features!
Ozzy Osbourne Slot Bonus Features
Bonus Bet
You can choose to activate Bonus Bet at any time to upgrade your Ozzy Osbourne gameplay experience. When it's enabled the two eerie bat-like statues will light up to remind you that it's on - and you can simply click Bonus Bet again if you want to turn it off. When on, you'll be awarded more free spins in the relevant feature, bigger multipliers, and you'll have an even bigger chance to trigger the bonus rounds.
Symbol Charge Up
This feature is enabled during the Re-Spin and Free Spins rounds. In the two top corners above the reels, you'll see two boxes; one is a Symbol Spinner and the other is the Feature Spinner. The former will pick out a symbol at random to apply to the reels during the bonus feature; the latter will determine which feature is applied to this symbol, from the following:
Coin Win
Each chosen symbol will award a 'Coin Win' that is worth the same as a combination of a 3-of-a-kind combination multiplied by the bet level.
Symbol Multiplier
If the chosen symbol lands in a winning payline it will be multiplied by the chosen multiplier - and if you've enabled Bonus Bet this multiplier will be a boosted amount of up to 7x.
Wild
Each chosen symbol will transform into a Wild.
Upgrade
The chosen symbol will be upgraded to the next most valuable symbol in the paytable, taking on any and all relevant features that are normally applied to the symbol it's upgraded to.
Re-Spin
Once the Symbol Charge Up has determined the chosen symbol and its feature, the reels will Re-Spin. If a Scatter lands then you'll be given access to the Free Spins feature that you can play through once the Re-Spin has completed.
Free Spins
You'll be awarded either 4 or 5 free spins depending on whether you've activated Bonus Bet, which will give you more spins than the base game. The Symbol Charge Up will activate before each spin meaning each round of the Free Spins feature is completely unique. You'll receive an additional spin if you land a Scatter.
How to Play Ozzy Osbourne Slot
Stake
Adjust your Coin Value and Level to increase or decrease your total stake per spin from the default amount.
Max Bet
The Max Bet option gives players a quick shortcut to stake the maximum amount per spin. It's worth noting that pressing Max Bet a second time will spin the reels at the highest stake so if you'd like to undo your changes then use the Coin Value and Level buttons to adjust it.
Autoplay
From the Autoplay menu, you can decide on the number of spins you would like to automate at the current bet value; there are advanced settings to further tailor your experience.
Pink Thinks…
Whether you're a fan of Ozzy Osbourne or just fancy a new slot game with some unique features, this is a great addition to our collection of slot games, giving players lots of opportunities for interesting gameplay and nice payouts - particularly thanks to the Bonus Bet functionality which gives you just some great extra touches. Make sure you head over to our online casino blog for updates on new slot releases, how-to guides, and some top lifestyle pieces.