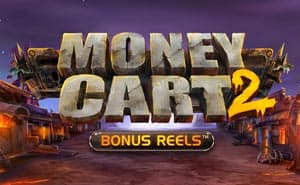 Money Cart 2
About Money Cart 2
Venture into the wilderness of Money Cart 2 to seek out impressive prizes and powerful casino bonuses in the environment of a post-apocalyptic wasteland. In this unique online casino game, you'll be aiming to trigger the elusive re-spins feature which is full to the brim with spectacular character and bonus symbols that offer powerful payout opportunities! Money Cart 2 differs from your typical slot games in the sense that there isn't much to the base game spins. Here, the only goal is to trigger re-spins with just a select few symbols making an appearance.
Money Cart 2 Re-Spins Feature
Unlike most other mobile slots, the bulk of Money Cart 2's gameplay is found within its bonus feature with all of the payout potential hidden within. Re-spins is the feature you'll be looking out for and it can be activated by landing a minimum of 3 scatter symbols. For your efforts, you'll receive 3 re-spins and all of the triggering symbols will be locked in place. Throughout these 3 spins, whenever a special symbol lands, it will be locked and will also cause the spin counter to reset. At the end of the bonus, the prize amounts of each symbol will be added together to give you an overall payout!
The following are the available symbols that could show up during the re-spins and a brief description of the impact they have:
Bonus Symbol: These add an instant prize of 1-10 coins.
Golden Bonus Symbol: Much like the standard version, you can expect to receive a prize between 20-200 coins.
Payer: This will award a prize and increase the coin value of all the other symbols on the reels. There is a persistent version of the Payer symbol available.
Collector: You'll be given a prize first and foremost. Then, the rest of the coin values on the reels will be added together and, as you might expect, collected! There is also a persistent version available.
Collector & Payer: On the symbols where the two characters show up together, you'll receive a prize bolstered by the combined value of the other symbols on the reels, and then the new prize amount will be added to the rest of the symbols.
Sniper: This reveals a coin value before boosting the worth of up to 8 other symbols. There is a persistent version available.
Necromancer: This awards a prize value, and then will 'resurrect' up to 7 special symbols that have already made an appearance. This means that if any of the character/bonus symbols have shown up during the re-spins, they have the chance to come back again if the Necromancer resurrects them.
Reset Plus: This will award a prize amount and will add an extra spin onto the counter.
Money Cart 2 FAQs
Q. What is the maximum payout in Money Cart 2?

You can win up to 5,000x your stake, also referred to in-game as 50,000 coins. The specific amount you will receive depends on how much you've staked and which special symbols make an appearance during the re-spins feature!

Q. Can I try out a Money Cart 2 demo?

Once you've signed up for an account at Pink Casino, you'll be a fully fledged member of our welcoming community of like-minded players. As a registered user, you'll also get to enjoy plenty of slot demos, including Money Cart 2, which enables you to try the game for yourself without having to stake your own cash. If you like what you see, it's incredibly easy to swap over to real play where actual payout prizes could be waiting!