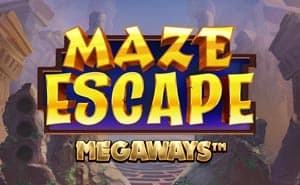 Maze Escape MEGAWAYS
About Maze Escape Slot
The Maze Escape slot is a unique take on the Greek mythology theme that is incredibly popular with online casino players in the UK. While many other slots may take a more generic approach to the genre, Maze Escape hones in on the tale of Theseus and the Minotaur - one of the most iconic stories in Greek mythology that most people know and love.
While there are no terrifying scenes to behold in Maze Escape, you'll navigate your way through an immersive piece of gameplay that boasts a set of reels that will increase in size as you land winning combinations. Not only this, but there are 2 modifiers and a free spins bonus round to make this one of our best online slots of the genre. It's feature-filled and packed with payouts - and you'll get up to 117,649 ways to win!
Maze Escape Bonus Features
Helmet Blocker: Helmet Blocker is a randomly activated modifier that will place up to 4 path symbols on the reels.
Minotaur Blocker: If the Minotaur Blocker modifier is activated, then a multiplier valued at up to 7x will be applied.
Free Spins: Although it's subtle at first, to the left of the reels is a large stone with 3 circle positions - these are for coins that could appear on the reels. Collect 3 symbols to trigger the free spins casino bonus, embellished with golden frames, win multipliers, and much more!
How to Play Maze Escape Slot
Stake: If you have a budget in mind, you can change the stake to suit your needs. This stake will be deducted from your balance with each spin and will also determine the value of any payouts, which will be awarded as multiplications.
Spin: If you're happy with your settings and have read up on the rules and information in the game's paytable, you can press the Spin button to make your way into the winding paths of the maze.
If you like the Greek mythology theme, we would also recommend the colourful Gods of Power slot