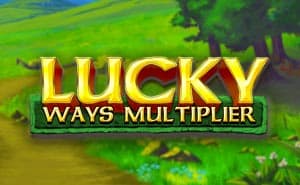 Lucky Ways Multiplier
About Lucky Ways Multiplier
The Lucky Ways Multiplier slot by Inspired Gaming is one of our Emerald Isle-inspired titles, transporting players into the lush countryside of Ireland. Occupied by cheery leprechauns encumbered by payouts aplenty, they could help you turn your spins into winning opportunities complete with multipliers and potential free spins!
As the name suggests, this online casino game highlights multipliers as its crowning glory and they definitely stand out in the Re-Life Spins feature which replaces the traditional concept of free spins entirely. Instead of assigning players a number of spins dependent on the number of Scatters that triggered the bonus, all players get the same number of 'lives': 3! This counter will tick down for every non-winning spin but on the upside, every spin that results in a payout prize will reset your counter. Better yet, when you're down to 1 life, a special extra will kick in…
We're really excited to bring our Pink Players innovative new titles that explore one of the most popular and iconic genres of slot games to offer unique gameplay and interesting opportunities to grab a win or two!
Lucky Ways Multiplier Bonus Features
Re-Life Spins
The Re-Life Spins casino bonus feature is a really unique alternative to the classic free spins feature that is popular with many of our players. Instead of being assigned a certain number of free spins, you're awarded 3 lives regardless of how many Scatters trigger the bonus - and these lives are represented by coins. If a spin occurs that doesn't result in a winning symbol combination, it will lose you a life but a winning spin will actually reset your counter back to 3 along with increasing your multiplier! Multipliers can reach incredible heights of up to 100x to enhance the payouts on offer in this brilliantly different bonus! The starting multiplier you'll be assigned is outlined below:
3 Scatters: 1x starting multiplier 4 Scatters: 3x starting multiplier 5 Scatters: 5x starting multiplier
Life Saver Spin
This bonus is included in the Re-Life Spins bonus but it's well worth shouting about. During any spin where you have just a single life remaining, this feature will trigger as a second chance of sorts. The entirety of the third reel will be taken over by a jolly Wild for an even bigger chance to turn your final spin into a winning one to reset the counter!
How to Play Lucky Ways Multiplier
Stake: Open the stake menu by pressing the coin icon - this will present you with all the available bet increments that you can choose from in Lucky Ways Multiplier.
Spin: You can either choose to manually spin for a round at a time with the Spin button or you can set up Autoplay to spin automatically for as many gameplay rounds as you like. If you change your mind, Autoplay can be stopped at any time - except for in the middle of a spin.
Pink Casino's Lucky Ways Multiplier Review
If Irish titles like Rainbow Riches have a place in your list of favourite games then Lucky Ways Multiplier is a strong contender for a new addition to your shortlist of slots. Offering something brand new to the genre, your free spins feature comes with 3 lives regardless of how many triggering symbols landed on the reels - and this counter will reset with every single winning spin! We're particularly impressed by the Life Saver Spin which gives you a strong final spin for the chance to turn it around and regain your lives.