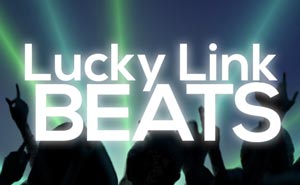 Lucky Link Beats
##About Lucky Link Beats Lucky Link Beats online slot game is played on 5 reels, 4 rows and is brought to you by Scientific Gaming. Featuring the usual slot buttons and two additional bonus features, this slot will be sure to put you in the groove.
Bet Level If you wish to either increase or decrease your bet then you will need to change the bet level. To increase the bet press the (+) button and to decrease it press (-).
Autoplay If you're tired of pressing the spin button every time, press the autoplay button. This means that the slot will spin automatically for the amount of times that you want it. You can stop this at any time by pressing the stop button, or it will stop after the amount of spins you set.
Spin If you want to get the game started then press the Spin button, this will set the reels in motion, they will stop and the symbols will land in different combinations, will it be a winning one for you?
Help If you need to know anything about the game then press the Help button. This will contain all of the information that you need to know about the game, including the value of each of the symbols and the different paylines.
##Lucky Link Beats Bonus Feature
Free Games Bonus Ladies, if you manage to land three or more Free Spins symbols then this will activate the Free Games Bonus. This will then award you between 5 and 20 Free Games to begin with and also a wild multiplier. The feature will automatically be played and will come to an end when there are no spins remaining or you have achieved the maximum win.
Lucky Link Feature Triggering the Lucky Link Feature in Lucky Link Beats online slot game is done by landing 4 or more Music Note symbols on the reels. The reel grid will then expand to 5x8 reels. The top 4 rows are locked in place at the beginning of the bonus feature and each time you land more music notes, more reels will unlock. Whenever a music note symbol is locked in to place, the number of free spins will restart and you will receive another 3 free. The music note symbols that land will be locked in place on rows and no other free spins will be available until their row is unlocked.