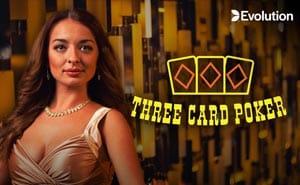 Live Three Card Poker
Play Three Card Poker at Pink Casino
Are you looking for a fast-paced game of live online poker that offers a combination of five-card stud and live baccarat? Then why not pull up a chair at the immersive Live Three Card Poker table complete with our live dealer.
Here at Pink Casino, we have many versions of live poker. However, this version condenses poker into a small hand of three cards, where the only aim is to beat the dealer, meaning that Three Card Poker is a game for virtual casino players of all levels.
What also makes this Evolution Gaming version different from other versions of live poker we have in our live casino is that players only have to beat the dealer if they're looking to win. So unlike other live table games, they won't be competing against other players at the table.
How To Play Three Card Poker
Played with only three cards, you will need to place your ante bet before the hands are dealt. You will also have the chance to place one of the two side bets on offer. After all the bets have been placed, the dealer will then deal two hands, one for the player and one for themselves.
Players will then have the chance to continue playing by placing an additional bet equal to the ante or fold if they choose to do so. The dealer's cards are then revealed, the hand in play is then evaluated, and the dealer must have a queen high to proceed. If they don't, players will win a 1:1 payout on ante. However, if the dealer does qualify for the hand, the highest-ranked wins.
If you're new to poker, check out our intro to poker
What are the side bets in Live Three Card Poker
There are two side bets on offer in Live Three Card Poker, the Pair Plus Bet and the Six Card Bonus Bet. The first side bet allows players to bet on whether they'll form a pair within their hand. Payouts on this bet will be determined by the pairs on show, and it could give players the chance to earn a payout of 100:1.
The other side bet on offer within Three Card Poker is the six card bonus, and this combines your three cards with those in the dealer's hand to form a five-card hand of three of a kind or better. Like the other side bet, this bet also offers an additional payout with the top prize of 1000:1.
Other Poker Games at Pink Casino
If you're looking for other live poker and card games, we also have Ultimate Texas Hold'Em