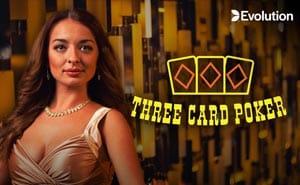 Live Three Card Poker
Welcome to Ultimate Texas Hold'em
A standard Texas Hold'em game played in a casino pits multiple players against one another and the house. In our live Ultimate Texas Hold'em game, you only play against the house. But it is still just as adrenaline-pumping. It's still just as thrilling because the rules are otherwise the same. Your goal is to form the best five-card hand you can using your own cards and the five community cards. Do better than the house and the pot is yours.
The secret to Ultimate Texas Hold'em is technology. Using live video feeds and computer technology, we are able to put you right in the centre of the action. You have exclusive access to your table and dealer, even as other players are playing at other tables around the room. You see the sights, you hear the sounds, and you take it all in from the privacy of wherever you happen to be.
If you have always wanted to play live Texas Hold'em but haven't had the opportunity to make it to a land-based casino, no worries. That's no longer an issue thanks to Ultimate Texas Hold'em. Modern technology brings the game to you instead of you having to go to it.
All you need is a computer or mobile device to play. Sign up for an account, make a deposit, and then login to Ultimate Texas Hold'em for instant access to one of the most popular poker games online. Play your cards right and you could walk away a winner.
Need a few tips before you play? Take a peak at our How to Play Poker on the blog.
Playing Ultimate Texas Hold'em Online
The rules of Ultimate Texas Hold'em are nearly identical to the game played in land-based casinos. There are only two major differences. First, it is just you against the house. No other players are at your table. Second, the dealer must have at least a pair to qualify. You win the hand out right otherwise. Finally, you only have three opportunities to raise – one for each successive turn of the cards.
With the exception of those three rules, everything else is pretty standard. After making your ante and blind bet, both you and the dealer receive two cards. You can elect to fold, check (stand), or raise. Assuming you do not fold, three community cards known as the 'flop' are dealt face up.
Again, you can elect to fold, check, or raise based on the cards dealt thus far. This process repeats with a fourth card (turn), a fifth card (river), and finally the revealing of the dealer's hand. The better hand wins. Note that you lose the hand should you decide to fold at any point.
There are computer-generated controls on the screen that allow you to make your choices. Wagering is as simple as dragging chips onto the table at the right time. As for the ante and blind bet, they are determined automatically. Once those two wagers have been placed to start a hand, just follow the action and click the appropriate buttons. Everything is fast, seamless, and in real time.
Ultimate Texas Hold'em Bonus & Special Features
Ultimate Texas Hold'em's special feature is the Trips Bonus Bet. This is an optional side bet that allows the player to form a winning hand using two of his own cards and three of the five community cards. It pays out on three of a kind or better regardless of what the dealer's hand eventually turns out to be.
At our casino, bonuses are a big part of what we do. We reward our regular players with scheduled bonuses that appear from time to time. If you like Ultimate Texas Hold'em, try playing it with one of our bonuses in your back pocket, so to speak. We encourage you to check back with us as often as you can just in case new bonuses are on offer.
All the gaming world knows about Texas Hold'em thanks to intense media coverage. Now is your opportunity to join in by signing up and logging in to our Ultimate Texas Hold'em game. This is live casino gaming from the comfort of your own home or office. Ultimate Texas Hold'em brings you all the excitement of a classic variation of poker in a format that is mobile-friendly and extremely convenient.