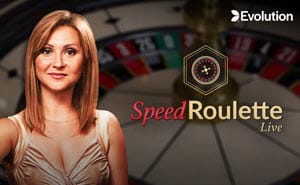 Live Speed Roulette
Live Speed Roulette Key Points
Game Title: Live Speed Roulette Game Provider: Evolution Theme: European Roulette Maximum Payout: 35:1 Bonus Features: 25-Second Rounds
About Live Speed Roulette
As you would have certainly guessed from the name, Live Speed Roulette is all about the speed of the roulette gameplay. It's still the same lavish, world-class studio and croupiers that keep Evolution as one of the very best, but a few tweaks have been made so that the play is far more efficient.
At almost all of the other non-Speed live roulette tables, the betting window opens, everyone places their bets, you watch the wheel spin and the ball settle, and then return to another betting window.
Speed Live Roulette takes out that betting window and integrates it into the wheel spin.
Live Speed Roulette Gameplay
The Live Speed Roulette table offers you the betting of European roulette but with the additional Racetrack betting zone with the call bets of French roulette. So, you'll get the shorter house edge from only one 0 pocket, get all of the usual inside and outside bets, and get back to the likes of Tiers du Cylindre, Orphelins, Voisins, and Jeu Zéro. Even with all of these options, the single number win still offers the highest payout at 35:1.
As the game never opens a betting window – betting is done during the wheel spin for the next round – you'll always be using the betting zone spread at the bottom of the screen in Live Speed Roulette. Here, you tap on your chip size, pick your numbers and bets, and then wait for the next spin.
Live Speed Roulette Bonus Features
The bonus feature of Live Speed Roulette is the pace of the game, running one round roughly every 25 seconds. Compared to many European roulette tables, though, you could say that the additional feature here is the Racetrack and call bets. Here's what each of these extra bets entails:
Voisins du Zéro: Comprised of nine inside bets, this call bet sees you cover the numbers 22, 18, 29, 7, 28, 12, 35, 3, 26, 0, 32, 15, 19, 4, 23, 2, and 25 as a combination of splits, corner bets, and the basket bet, paying 17:1, 11:1, or 8:1.
Jeu Zéro: A bet that covers 12, 35, 3, 26, 0, 32, and 15 with four bets: three splits and one single bet on 36. The splits pay 17:1, while the single pays 35:1.
Tiers du Cylindre: This call bet includes six splits to give you a coverage of 12 numbers. These splits are the 5-8, 10-11, 13-16, 23-24, 27-30, and 33-36. Each of these pays at 17:1.
Orphelins: Made up of a single bet on 1 and splits on 6-9, 14-17, 17-20, and 31-34, with 17 covered twice. Winning this call bet can pay 17:1 or 35:1 – or if 17 comes in, you'll get two payouts of 17:1.
Live Speed Roulette Review
Live Speed Roulette is perfect for any roulette players who are familiar with Evolution.
The speed of play is more akin to what RNG roulette can offer, with betting for the next round taking place during the current.
Live Speed Roulette FAQs
Q. Is there a Bonus Feature in Live Speed Roulette?
A. There isn't a bonus feature in Live Speed Roulette, but you can place call bets on the Racetrack.
Q. Can I play Live Speed Roulette on mobile?
A. You can play Live Speed Roulette on Android and iOS mobile devices thanks to its mobile-optimised controls.
Q. What Type of Roulette is Live Speed Roulette?
A. The Live Speed Roulette table is played live, in real-time, and on a European roulette table.
More Games By Evolution