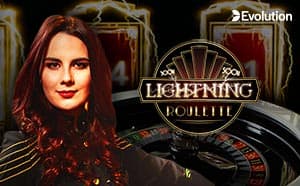 Live Lightning Roulette
Live Casino Roulette Game: About Lightning Roulette
Lightning Roulette offers a great twist on one of the most classic staple casino games by making it fast-paced and packed full of electrifying features that transform the gameplay experience of the more traditional Live Roulette. The unique lightning edition of casino Roulette is all about the speed - this is an online casino game with some serious winning potential!
Presented by an experienced live host, you'll be guided through all aspects of the casino roulette game - from placing your bet to talking you through any and all rules that are applicable to you as a player; this makes it a straightforward live casino experience even if you've never played before. If you are quite new to Roulette you might want to have a look at our introduction to roulette guide we wrote up on our casino blog - this will give you a great foundation for getting started. While some of the rules may differ with this being a different version of the game, it's great for some context before you start playing.
How to Play Lightning Roulette
Stake
The first thing you need to do is decide how much you'd like to bet on the casino roulette table. You can change the stake from the default amount by expanding the Total Bet menu to choose your chip amount. Along the bottom of the screen, you'll see the 'Place your Bets' section containing lots of different squares for you to place your chips. Select the area of the board and your chip(s) will be placed there. There are plenty of ways to bet in Lightning Roulette; bet on individual numbers, odds or evens, and reds or blacks. How you play is completely up to you!
Spin
The host will spin the wheel once the allotted betting time has finished and all the bets have been counted; if the marble lands in a section of the casino Roulette wheel that you've placed a bet on then you're a winner and you'll receive a payout!
Lightning Roulette Live Casino Game Features
Lucky Numbers
Each time the wheel spins, lightning will strike and supercharge numbers that will become the 5 Lucky Numbers of the round. If you place your bet on one of these numbers and win you could receive a multiplier of up to 500x - with a minimum value of 50x!
Lightning Roulette Live Casino Game Classic Bets
Roulette Inside Bets
This is a bet that covers up to 6 numbers.
Straight Bet
Confident about one of the numbers on the board? Choose a straight bet to bet on one particular number which comes with a fantastic payout opportunity!
Split Bet
Pick two adjacent numbers and take home a potentially big win if either comes in!
Trio Bet
Similar to Split Bet, just add in another adjacent number and decrease the win accordingly!
Corner Bet
Choose one corner in the Betting Table, and bet on the 4 squares around it!
Six Number Bet
Bet on 2 adjacent rows in the Betting Table, for a total of 6 squares selected!
Roulette Outside Bet
Choose a category to bet on as opposed to specific numbers!
Roulette Even Bets
Bet on the Even numbers (excluding 0) to have a good chance of bringing in the win!
Roulette Odd Bets
Change the Evens to Odds, but the bet would basically be the same!
Red Bets
Choose to bet on Red and just hope it doesn't land on Black!
Black Bets
Exactly the same as a Red bet, but with the colours flipped!
Roulette Low Bets
Bet on the numbers 1-18 to win big from below!
Roulette High Bets
Bet on the numbers 19-36 to roll with the high-rollers!
Pink Casino Roulette Review: Lightning Roulette
There's a reason that casino Roulette has long been one of the most popular and famous of all casino games; it's a purely chance-based game that is easy to pick up and learn, so no more trawling through guide books to try and understand what's happening. Lightning Roulette is a re-energised version of this classic casino game, brought into the 21st-century with the Lucky Numbers feature that could offer a multiplier of up to 500x! If you're a fan of live casino games, this is certainly one to watch out for. If you're not feeling live casino today, try one of our slots for something a little different!