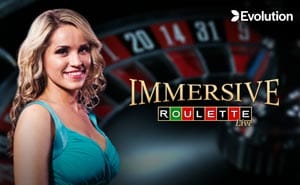 Live Immersive Roulette
Immerse Yourself in Live Roulette
Live roulette represents a fantastic way to play one of the most loved casino games without having to go to a land-based casino. A live game connects players with real croupiers spinning manual roulette wheels in a studio setting. An immersive game takes everything you love about live roulette and makes it better.
The goal of Live Immersive Roulette is to get you so involved in the action that you feel like you are actually at a land-based casino. We do that through a combination of video and computer technology that takes advantage of the best the internet has to offer. With Live Immersive Roulette you help control the action by choosing your camera angles and interacting with your croupier.
Live Immersive Roulette features high-definition video at up to 200 frames per second. With that high a frame rate you will be able to zero-in on the marble and wheel for a level of detail you cannot get with other live games. It is almost like you are standing directly over the wheel with a magnifying glass.
To play, you only need a membership and some funds in your account. Just login to the live game and get going. The non-stop roulette action will keep you entertained spin after spin.
Live Immersive Roulette's Gameplay
In terms of rules, Live Immersive Roulette should be familiar to you. It utilises the same standard rules that govern European Roulette games. The roulette wheel consists of 36 numbered pockets plus the zero pocket for the house. All but the zero pocket are coloured either red or black. Your goal is to try to correctly guess which pocket the marble will fall into on the next spin.
Across the bottom of your screen are the controls and poker chips you need to play. Drag chips on to the table to place wagers just as you would in a land-based casino. Once you're satisfied, click the 'Spin' button to signal to your croupier that you are ready. He or she will spin the wheel and evaluate any winners.
All your typical roulette wagers are available in Live Immersive Roulette. Bet on a single number for 1-in-37 odds that offer a nice payout if you win. If you are looking for higher odds, try a Column or Dozens bet. The former is a wager on an entire column of numbers on the inside portion of the betting table. The Dozens bet is a wager on 1-12, 13-24, or 25-36.
Note that the lower the odds, the lower the payout. Let's say you bet on the black/red or odd/even section of the outside bets. Both these bets are considered even money bets because you have a 50-50 shot at winning. They offer the lowest possible payouts in roulette.
As for the game controls, each button serves a different purpose. The 'Undo' button removes the last group of chips you placed on the table. The 'Clear' button clears the table of all wagers so that you can start over. The 'Double' button keeps all your wagers in place but doubles the chips.
Bonuses & Special Features in Live Immersive Roulette
Live Immersive Roulette offers a few extra features that make this game a unique experience. For example, the multiple camera angles allow you to zoom in on the roulette wheel and marble to give you whatever kind of view you want. The different camera angles also offer different shots of the studio.
If you are into action shots, use one of the HD cameras to zoom in and show you a slow-motion replay of the marble dropping into a slot. You get to see exactly how it happened after every spin. The whole point of creating an immersive experience is to get you involved. So don't be shy. Use all the controls at your disposal to create the most entertaining experience you can.
Also keep an eye out for occasional bonuses offered by the casino. Bonuses enhance gameplay by giving you more to play with. We offer a variety of bonuses on a regular schedule. They can take many forms, so it pays to visit frequently to see what's on offer. The right bonus can make Live Immersive Roulette the best online gaming experience you have ever had.
If you love both roulette and immersive game experience is, this game is just what you've been looking for. Give it a try today. We are fairly certain that you will not be disappointed.