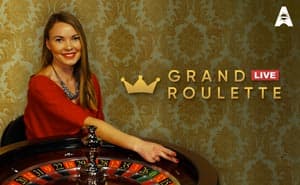 Grand Roulette Live
About Grand Roulette
If you've ever played a game of Roulette, either at an online casino or a land-based venue, you'll be familiar with the simple gameplay on offer in this iconic casino game. The aim of the game is as simple as guessing what the outcome will be of the upcoming spin. You can pick out an individual number that you think the ball will land on or bet on a specific grouping like odds or blacks, or even a number group. The more specific your bet is, the higher the potential payout will be if your guess is correct. This is one of the top live casino games available in the UK and we're excited to bring it to our Pink Players courtesy of Authentic Gaming.
How to Play Grand Roulette
Chips: Before you start playing, as with all games, you need to determine the amount of money you want to bet on the current gameplay round depending on the budget you have in mind. There are plenty of chip options available with all chips representing a variety of stakes. These chips can be stacked if there isn't a sole chip that works for your budget.
Bet: Place your chip(s) on the section(s) of the table that best represents the area you think the ball will land on when the wheel has finished spinning. This can only be done when the bet window is open, so listen out for the host's instructions so they can keep you informed about when you can place your bets.
Pink Casino's Grand Roulette Review
Roulette is one of the most beginner-friendly casino games available to play with it being as simple as placing bets on the outcome of the spin. As there is no real method to the gameplay, you have as good a chance of winning a round as a player that has been playing Roulette for years. Grand Roulette is a great option for players that want a relaxed live casino experience with great modern features that can't be found in land-based casinos.