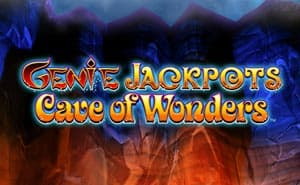 Genie Jackpots Cave Of Wonders
About Genie Jackpots Cave of Wonders
Developed by Blueprint, Genie Jackpots Cave of Wonders joins the Genie Jackpots family of casino games but features a new graphic twist, taking on the Pub Fruit mechanic Pink players may have experienced playing Ted Pub Fruits. On offer are 5 classic paylines with the addition of 16 bumper bonus rounds, providing players with a fantastic chance to score any amount of lucrative wins. Bonus features include free spins, unique bonus symbols, feature boards and more. With stakes available from 20p all the way up to £100 per spin, this is a game which can suit slot players in every budget bracket.
The most valuable features in Genie Jackpots Cave of Wonders are the lucrative bonus boards which offer players a bounty of fabulous prizes. Land enough numbers on the reels and you will be transported to one of two bonus boards where you will be offered the chance to play for both big cash and feature led prizes.
This game is optimised to be fully compatible for Pink Players who use mobile or tablet so you can spin on the go or at home, without forgoing the top HD quality.
How to Play Genie Jackpots Cave of Wonders
Stake
To decide your Genie Jackpots Cave of Wonders bet hit the 'Stake' key and use the (+) and (-) keys to toggle through the available bet amounts until you land on one which suits you. This can be changed after every spin, as long as the reels have stopped spinning.
Spin
Set the reels spinning using the 'Start' button. The symbols on the reels will randomise and any winning combinations hit after they stop will be highlighted before the win amounts are awarded.
Autoplay
The Autoplay feature allows the reels to spin continuously for a predetermined number of spins, deducting the selected bet amount from your balance automatically. You can set a single win and/or loss limit to ensure that the feature ends if your budget parameters are exceeded; you can also end Autoplay automatically by pressing 'Stop.'
Genie Jackpots Cave of Wonders Special Features
Bonus Trail
As you collect numbers on the reels, you increase your trail bonus. Hit 4 numbers during your spins and a bonus will be triggered, awarding Pink Players a prize corresponding to the square they have landed in around the trail. Prizes include free spins, bonus symbols and mystery prizes.
Should you collect more than 8 numbers during your time spinning the reels the 'Super Board' will be triggered, offering you the chance to win both big cash payouts and extra game features.
Cave of Wonders
Collecting 3 'Lamp' symbols during the Bonus Trail will trigger the Cave of Wonders bonus. Players have 2 options; enter the cave of wonders to discover what lies inside, or continue playing the Bonus Trail in a bid to collect more lamps and upgrade the Cave of Wonders bonus feature.
Bonus Ladder
Genie Jackpots Cave of Wonders offers players a further 16 bonus features to boost chances of hitting a win. Pink Players can advance up the rungs of the bonus ladder whilst playing though the Bonus Trail feature, for each step up the ladder you take you will be awarded the respective prize.
Pink Casino Verdict…
Genie Jackpots Cave of Wonders is a fantastic addition to the Genie Jackpots family. Not only is the Pub Fruit style game interface both stunning and extremely user friendly, but it also offers great potential wins for players to hit through spins and bonus rounds - making Genie Jackpots Cave of Wonders an all round great game. The Bonus Trail feature can be incredibly lucrative, especially when it leads to the Cave of Wonders bonus or the Bonus Ladder.