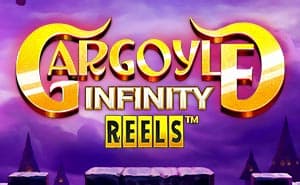 Gargoyle Infinity Reels
About Gargoyle Infinity Reels
Protecting the cathedral-esque reels are a number of eerie gargoyles, as you might expect from Gargoyle Infinity Reels' title. Like other titles in the Infinity Reels series of online casino games, the number of reels will continue to increase with each consecutive win, leading to plenty of opportunities for continuous payouts within the same spin.
There is plenty of big win potential on offer, rivalling many of our dedicated jackpot slots with instant prizes on offer in the free spins round of up to 888x! The total maximum payout is a generous 20,000x which is made possible through high volatility gameplay that can award big prizes at a slightly less regular rate on average to other lower volatility games.
Gargoyle Infinity Reels Bonus Features
Free Spins: 3 scatter symbols are required to land in a single spin for the free spins casino bonus to trigger 10 free gameplay rounds that offer a unique twist! For the duration of this feature, if any wilds occur, an extra position will be added to the relevant reel. If you manage to create a 6-symbol-high column through landing wilds, any extra wilds that land on this reel will award a jackpot prize worth up to 888x!
How to Play Gargoyle Infinity Reels
How to Play: Playing slots is as simple as choosing a stake appropriate for your budget and pressing the Spin button to start the first spin. Payouts will occur when a combination of identical symbols land on the reels; the successful symbols will be highlighted, and the correct payout will be awarded.