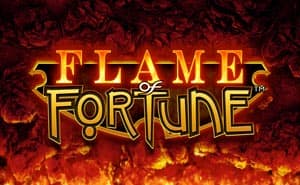 Flame of Fortune
Flame Of Fortune has 10 paylines over 5 reels and 3 rows. There's a chance to enhance your bonus round, so don't miss out on this exciting new slot.
Classic Buttons
Stake/Line
'Stake/Line' is the amount that is going to be staked on each line on the next spin, so the lower this value is, the lower the overall bet will be. Pressing the up arrow (+) will increase the Stake/Line and to decrease up, just press the down arrow (-).
Spin
When you are ready to start your game, press the Spin button to spin the reels and place your bets.
Big Bet
The Big Bet feature allows you to play an enhanced version at the game by staking a higher amount of money. You'll get access to enhanced bonus rounds, and a better chance at getting those big wins.
Help
The Help button shows you everything you will need to know about the game. You'll also find the game's paytable, so you can see just how much you can win on your next spin.
Flame of Fortune Slots bonus features
Fortune Drop
Fortune Drop is a 5x5 cascading reel, which is activated by finding 5 golden symbols on any winline. When the reel is cascading, winning symbols are removed, and new symbols fall in their place, meaning you can win more than once on each spin. In order to win, you will have to match 3 or 4 of the same symbol, but now you can match them either horizontally or vertically. At the end of the Fortune Drop, all your winnings will be accumulated and you'll be given a choice: take your winnings, or spin the Flame of Fortune Wheel!
Flame of Fortune Wheel
Spinning the Flame of Fortune will award either a cash prize or an enhanced version of the Fortune Drop. The enhanced Fortune Drop can come with a number of additional features, which will occur randomly in different games, so you might not get all of the available features, but you'll definitely get at least 1. The features available are symbol multipliers, WILD symbols and multiple Fortune Drop games.
Big Bet
When pressing the Big Bet button, you'll be playing with 5 or 8 linked spins of the reels. You'll also be able to select a Wheel of Fate to spin, to enhance your chances of winning big. There are 4 Wheels to choose from and each will offer different features to play with. All winnings from the Big Bet are accumulative and will be awarded at the end of the Big Bet as one big winning package. The Fortune Drop can still be triggered during the Big Bet feature as well.
Wheels of Fate
At the start of a Big Bet feature, you will be given the option of 4 Wheels of Fate; 2 normal Wheels, and 2 Super Wheels. The RED Wheel of Fate can offer Golden Reels, WILD reels or expanding WILDs. The RED Super Wheel of Fate will give you up to 3 Gold reels, up to 2 WILD reels or more expanding WILDs. The BLUE Wheel of Fate offers 1-3 Gold Reels. The BLUE Super Wheel of Fate will give you at least 3 Gold reels. WILD reels will turn the full reel into a WILD for each spin, and expanding WILDs will turn any WILD on the reels large enough to cover its whole reel.