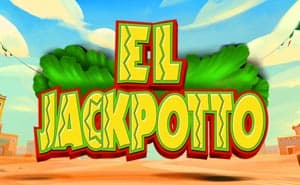 El Jackpotto
El Jackpotto is a 5 reel Mexican themed slot with 20 paylines. This spicy online slot game offers a variety of bonus features and reel modifiers.
El Jackpotto - Buttons
Bet Cook up a storm in El Jackpotto online slot by selecting a bet value that could help spice up your fortune! Simply use the top and bottom arrow keys to increase or decrease your desired amount and once it's secured, you're ready to start!
Spin Simply click 'Spin' to spin those mexican reels and let the battle commence!
Auto Simply click the button with two spinning arrows to indicate Auto. By selecting this button, this will allow you to spin the reels automatically, for a number of rounds you wish. And… breathe.
El Jackpotto Bonus Features
Smack That Ass OUCH! You must choose your lucky pinata to start this bonus, so which pinata is calling your name? During the feature, eliminate 4 pinatas and their prize or bonus round to receive a steamy cash prize offer! It's taco or no taco, watch out for the pinata swap.
Pound For Pound Put your cash prize goods in a headlock in Pound For Pound Feature. Within this feature, you'll be presented with a screen filled with 'Belt' symbols, you'll need to click the 'Belt' symbols to increase your winnings or the prizes available. If you've got 3 or more 'Taco' symbols then this will let you enter BIG money! Stay focused as you need to keep a look out for the 'Skull' symbol, once the skull appears on your reels, this will end the bonus and collect your overall prize. Put some heat in your fortune on El Jackpotto online slot now, who knows how much you'll leave the ring with?
Rocket Wild Free Spins Are you roaring to get started in El Jackpotto online slot to unlock the Rocket Wild Free Spins Feature? During any spin, El Jackpotto can appear and activate the Random Rocket Wilds. Receive 5 Rocket Wild Free Spins in which, up to 15 positions wild.
Ready To Rumble Defeat your opponent to achieve up to 4 free spin rounds! These free spin rounds could help you increase your winnings, so jump into this opportunity with both feet! Do you have what it takes? Beat all your opponents to enter the Big Money Bonus in El Jackpotto online slot!
Ultimate Luchador Big Money Bonus If you trigger the Ultimate Luchador Big Money Bonus in El Jackpotto online slot, you will get to spin the reels, to collect special symbols and unlock the Big Money Bonus for a GUARANTEED boiling hot cash prize!
Senor Burrito Reel Modifiers
What was that!? Senor Burrito can trigger randomly on any spin and award one of the following modifiers:
Tomato Sauce, Mustard Sauce, Colossal Fart, Chilli Sauce or Super Fart Bonus Reel.