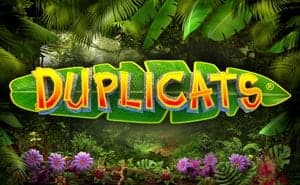 Duplicats
About Duplicats Slot
The jungle of the Duplicats online casino slot game is filled with ferocious animals looking to fill your paylines with the payout potential to award prizes of up to a roar-some 200x your original stake. Speaking of paylines, there are 10 fixed lines available for you to land potentially winning combinations of symbols across - will you find the mighty big cats?
The exclusive cat-themed symbols will have you 'feline' around for high-paying symbols that could award some impressive cash prizes if they land in the right positions on the reels with the king of the jungle, the almighty Lion, serving as the most valuable symbol on the reels, closely followed by the Tiger and Panther.
The aforementioned Lion can also substitute for the rest of your cat symbols - so if you're a symbol short of a Panther payout but a Lion lands in an adjacent position within the same payline, you've bagged yourself a cash prize all the same! There's also a low-value Wild that will substitute for your standard card value symbols - so keep your eyes peeled for this, too.
Duplicats Bonus Features
Duplicats Bonus
This fur-ocious bonus round is entirely different from the kind of casino bonus features that you'll find in other slot games. This can be triggered when a combination of cat symbols lands on a payline - it will guarantee you a 5-symbol win for a brilliant fist-pump moment!
How to Play Duplicats Slot
Stake
You can adjust the level of the bet that is deducted per spin by opening the game menu and navigating to the Bet panel where you can choose from the available increments.
Duplicats Slot Review
Duplicats keeps it effortlessly simple with a bonus feature that is short, sweet, and really effective if you manage to trigger it. There is huge win paw-sibility to be had in this game of up to a paw-some 200x so you can tell the developers are not 'kitten' around! These fur-midable jungle beasts pack cash prizes galore, so look out for combinations of them along your paylines. Tired of our cat puns yet?
More Animal-Themed Slots