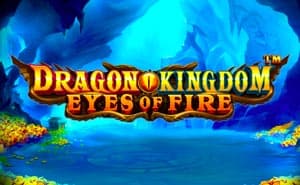 Dragon Kingdom - Eyes of Fire
About Dragon Kingdom Eyes of Fire
At first glance, Dragon Kingdom Eyes of Fire may appear to be a simple 3x3 slot game, but there's a lot more to the gameplay of this fiery online casino game than you might initially expect. The most significant difference between this and traditional slot machines is that you'll be treated to a progressive feature, involving increasingly valuable multipliers as you level up. Volatility-wise, Dragon Kingdom Eyes of Fire is medium-low, so it's relatively balanced and can therefore offer the opportunity to win both regular and high-value payouts.
Dragon Kingdom Eyes of Fire Bonus Features
Progressive Feature: The progressive casino bonus is a really unique concept, adding a twist onto a similar mechanic that is available in a select few other online slots. In this game, the counter will increase with every consecutive non-winning spin; after 4 losing spins, the column to the right of the grid will burst into flames and crack open multiplier eggs to boost the value of any winning combinations that may occur in the following spins.
How to Play Dragon Kingdom Eyes of Fire
How to Play: If you want to start playing this slot, you'll need to decide on a budget for either your overall gameplay or just for each spin. As long as you know how much you'd like to spend during a session, then you'll be able to select an appropriate bet amount in-game. Use the - and + buttons to tailor your bet to your liking; choose the number of coins to play per line and the value of said coins - the overall bet amount will update accordingly.
How to Win: As Dragon Kingdom is set on a small set of reels, there are fewer paylines on offer. To be more exact, there are 5 paylines that winning combinations could land across - and these are horizontal and diagonal lines. In order to receive a payout for a symbol combination, it will need to include 3 matching items from the paytable, and they must land across one of the paylines as mentioned above.
If you like this fire-breathing theme, try out Dragon's Fire